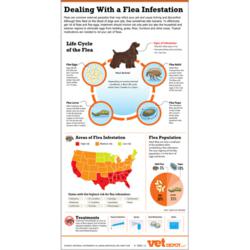 Encinitas, CA (PRWEB) March 15, 2012
Spring is almost here. The days are getting longer, the weather is getting warmer and unfortunately for many pet owners- fleas are beginning to come out in full force. Although year-round flea protection is the best way to prevent flea infestations, protection during the spring and summer months is especially crucial.
Fleas are not only an uncomfortable nuisance, they present a serious danger to pets. A large infestation can suck a lot of blood out of an animal's body, which in some cases can cause anemia. The risk of anemia is especially prevalent in very small or young pets. Both pets and humans can also develop an allergy to flea bites, making a bite that would typically only itch for a few minutes itchy for days. To make matters worse, excessive scratching can sometimes lead to secondary infections. This uncomfortable allergy may require treatment with steroids, medicated shampoos or topical medications.
If your dog or cat is persistently scratching or you notice fur loss, a flea infestation may be to blame. Fleas are smaller than a grain of rice and move very quickly across a pet's skin. Another sign of a flea infestation is "flea dirt" (flea feces), which looks a lot like coffee grounds. An infographic recently released by VetDepot reveals that the areas with the highest risk of flea infestation include California, Texas and the majority of the southeastern United Sates.
Luckily, a serious flea infestation can be prevented with a monthly flea medication like Frontline Plus, K9 Advantix or Advantage flea control. Bathing your pet regularly with a flea shampoo is also a good idea to keep fleas away. If infestation does occur, the environment will need to be treated as well as the pet. Environmental treatment options include sprays, flea bombs or foggers. Speak with your pet's veterinarian regarding the best flea prevention choice for your pet and treatment recommendations if infestation does occur. Keeping pets flea-free is important to their overall health and happiness.
About VetDepot:
VetDepot offers the very same pet products available from your local veterinarian with savings of up to 60%. All VetDepot products are backed by their 100% Satisfaction Guarantee. VetDepot is LegitScript certified, has an A+ rating with the Better Business Bureau and is committed to low everyday prices and excellent customer service. Check out their website at http://www.vetdepot.com or call their toll free customer service line at 866-456-0400. Give your pet the BEST!™