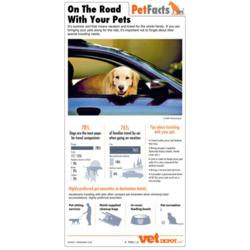 Encinitas, CA (PRWEB) July 19, 2012
Many families choose to hit the open road for their summer vacation. According to VetDepot's On the Road with your Pets Infographic, 76% of families opt to travel by car when vacationing with pets. While this can be a great bonding experience for two-legged and four-legged family members alike, it's important to consider a pet's safety.

Properly ID Pets: Before a road trip, pet owners should make sure their four-legged companion is equipped with up-to-date identification. A microchip in addition to an old-fashioned ID tag is ideal. For road trips, the ID tag should include a home phone number as well as a cellphone number at which the owner can be reached during the trip.
Pack Well: Pet owners should plan ahead by packing a travel kit for their pet. The kit should include pet food, bottled water, a couple of leashes in case one gets misplaced, any necessary pet meds, shot records, a first-aid kit and at least one comfort item like a toy or blanket from home.
Buckle Up: While riding in the car, pets should either be securely fastened in or confined with a seat belt, crate or car barrier. Owners that choose a canine seat belt should make sure their dog is safely secured in the backseat because the airbag in the front could be potentially deadly if deployed. Keeping pets secure while on the road not only helps protect the animal, but also the people in the car if an accident should occur.
Consider a Trial Run: Pets that aren't used to riding in a car might experience anxiety during travel. Pet parents that are planning an extended road trip with their pet should consider a few shorter car rides with their pet before their big trip. This will give the animal time to adjust to this new situation and also allow the owner to discuss any anxiety issues with a veterinarian before their vacation.
Never Leave an Animal in a Parked Car: This is one of the most important safety tips regarding pets and automobiles. The temperature inside a parked car can surpass 100 degrees in just minutes on even a mildly warm day. Cracking the windows or parking in the shade is not enough. Heat stroke is a serious condition and can lead to death within minutes.
By keeping the above tips in mind, pet owners can make car travel with their four-legged companions as enjoyable and free of stress as possible.
About VetDepot: VetDepot offers the very same pet products available from your local veterinarian with savings of up to 60%. All VetDepot products are backed by their 100% Satisfaction Guarantee. VetDepot is LegitScript certified, has an A+ rating with the Better Business Bureau and is committed to low everyday prices and excellent customer service. Check out their website at http://www.vetdepot.com or call their toll free customer service line at 866-456-0400. Give your pet the BEST!™