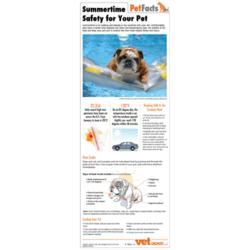 Encinitas, CA (PRWEB) July 31, 2012
Summer is a great time of year for fun in the sun with family. However, 2012 has been a year of record temperatures, meaning that pet owners should take extra care in protecting four-legged family members from heat-related dangers.
According to VetDepot's Summer Safety for your Pet infographic, over 22,000 daily record high temperatures have been set in the U.S. from January to June 2012. High temperatures put pets at a greater risk of heat stroke, which can be deadly. Signs of heatstroke include excessive panting, staggering, seizures, bloody diarrhea or vomiting and a rapid heartbeat. To avoid a potentially tragic case of heatstroke, pet parents should take the following precautions during warm weather months:
•Never Leave a Pet in a Parked Car: This is one of the biggest dangers for pets during hot weather. Even with the windows slightly open, temperatures can reach 120 degrees within 30 minutes on an 85 degree day. As temperatures rise to 90 degrees and higher, the threat of heat stroke is even more imminent.
•Provide Easy Access to Water: Animals can become dehydrated very quickly, so owners should make sure pets have access to cool, fresh water all day long. When going on long walks, jogs, or hikes in warm weather, owners should bring a bottle of water and a travel bowl for their canine companion.
•Provide Plenty of Shade: Whenever outdoors, pets should have access to shade to escape the heat. Since Fido and Fluffy can't sweat, they need a shady space to cool off.
•Limit Exercise to Early Mornings and Evenings: During the summer, limit activity to times of the day when temperatures are a little cooler. Early morning or evening is best, especially for intense exercise like running or hiking.
•Avoid Asphalt: When temperatures start to soar, avoid asphalt when taking pets out for a walk. This type of surface can get hot enough to burn the pads of canine feet.
About VetDepot: VetDepot offers the very same pet products available from your local veterinarian with savings of up to 60%. All VetDepot products are backed by their 100% Satisfaction Guarantee. VetDepot is LegitScript certified, has an A+ rating with the Better Business Bureau and is committed to low everyday prices and excellent customer service. Check out their website at http://www.vetdepot.com or call their toll free customer service line at 866-456-0400. Give your pet the BEST!™