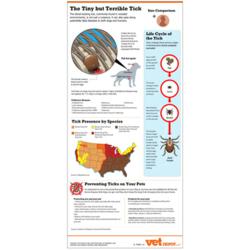 Encinitas, CA (PRWEB) April 19, 2012
Spring has sprung and with the change in seasons has come an influx in the tick population. Thanks to an unusually mild winter and the early onset of warm temperatures in many parts of the country, an especially bad tick season is expected. Ticks are a threat to both dogs and humans because they can spread dangerous diseases including Rocky Mountain spotted fever, ehrlichiosis, and Lyme disease.
According to VetDepot's recently released tick infographic, common species of ticks include the brown dog tick, the deer tick, the American dog tick and the Lone Star tick. A female tick needs a blood meal in order to lay her eggs. For that reason, she finds an animal or human to latch onto, possibly spreading disease.
Since symptoms of tick-borne illnesses may take up to 7 to 21 days to appear, it's important for owners to perform a daily tick check on their dogs. This is especially crucial on days a dog spends a great deal of time outdoors. Common spots for ticks to latch onto dogs include the upper leg areas, shoulders and behind the ears. If a tick is found, it should be removed right away using a pair of tweezers or tick pliers. Firmly grasp the tick and pull it out with steady pressure to ensure that the entire body is removed. Also, it's a good idea for a dog's veterinarian to conduct a tick exam during ever y checkup.
Luckily, some popular flea control products like Frontline Plus and K9 Advantix also protect against diseases transmitted through tick bite. It's best to speak with a veterinarian regarding the best method of tick protection for an individual pet. Dogs can also be vaccinated against Lyme disease. Veterinarians are the best resource for information about vaccinations, local tick-borne illnesses and the risks associated with tick bites.
About VetDepot:
VetDepot offers the very same pet products available from your local veterinarian with savings of up to 60%. All VetDepot products are backed by their 100% Satisfaction Guarantee. VetDepot is LegitScript certified, has an A+ rating with the Better Business Bureau and is committed to low everyday prices and excellent customer service. Check out their website at http://www.vetdepot.com or call their toll free customer service line at 866-456-0400. Give your pet the BEST!™