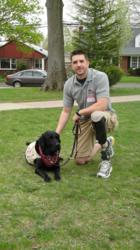 VetDogs changes lives.
Smithtown, NY (PRWEB) April 12, 2012
America's VetDogs – the Veteran's K-9 Corps will hold its Second Annual 5K Run and Dog Walk on April 22, 2012, at Quiet Waters Park, Annapolis, MD, to raise money to train service dogs for disabled veterans.
Chaired by U.S. Naval Academy Midshipman Ari Schiff, the VetDogs 5K goal is to raise at least $50,000 to sponsor an assistance dog for a disabled veteran -- and give them the chance to regain the life they once had. Quiet Waters Park is a pet-friendly venue with a leash law and dog park, and the VetDogs 5K is a certified course.
Registration for USNA students and alumni, veterans, and active service members is $20. For others, pre-registration is $25 by April 18. Walk-up registration is $30.
Dan Lasko and his America's VetDogs service dog Wally will participate in this year's event. Lasko enlisted as a Marine after graduating high school; his swearing in ceremony was September 11, 2001.
In March 2004, he was deployed to Khandahar, Afghanistan, and the following month was wounded when his convoy was ambushed and the truck he was driving took the brunt of an IED explosion. Lasko suffered traumatic brain injury, and ultimately, his left leg below the knee was amputated. He spent a year in rehabilitation at Walter Reed Army Medical Center (now the Walter Reed National Military Medical Center), where he was fitted with his first prosthetic limb and learned of America's VetDogs. Lasko received his service dog, a black Labrador named Wally, from the organization in 2008.
Wally provides Lasko with balance and stability support, especially at the end of the day when he removes his prosthetic, and is also trained to retrieve items that Lasko can't get himself. Having Wally, Lasko says, is "awesome" because the dog provides "unconditional emotional support." He also helps to take the attention away from Lasko's prosthetic limb. Lasko is an avid athlete and was recently named the MVP of the Wounded Warrior Flag Football team that won against NFL players. He has also appeared with Kathy Griffin and in "All My Children" as part of their storyline of wounded Iraq and Afghanistan veterans.
About America's VetDogs
America's VetDogs® trains service dogs for veterans and active duty personnel who need assistance with daily living activities: balance/stability, retrieval, response to alarms; guide dogs and training for disabled veterans with visual impairment; physical and occupational therapy dogs for VA and military hospitals; and combat stress relief therapy dogs that are deployed overseas.
All services of America's VetDogs are provided at no cost to the veteran, and include a lifetime of aftercare. VetDogs is supported by private donations and works with many groups such as the USNA midshipmen, but the Naval Academy is not a sponsor of the race or America's VetDogs.
To learn more about America's VetDogs and the VetDogs 5K run and dog walk visit http://www.VetDogs.org or http://www.5K.VetDogs.org.