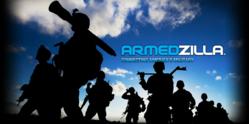 "The system is broken," he said. "That's why we started ArmedZilla.
Scottsdale, AZ (PRWEB) May 29, 2012
ArmedZilla.com, an Online Community of Veterans, by Veterans, for Veterans features a new and exciting way to connect with other Veteran buddies throughout their careers. A Veteran online community with a unit-based focus allows members to indicate what units they were assigned to and with that they automatically access stories and other contacts that were or are currently associated with their respective units. This benefit allows them to virtually create a timeline of great stories from buddies and others who share the same sentiment and attachment to their units.
The Veteran Social Network offers a unique way to meet and communicate within their branch(s) of service they were in during their career. There are many places where Veterans can try and communicate, but none like that you see on ArmedZilla.com.
"Telling Your Story" is one of its main objectives and encourages Veterans to take out those old unit photos and share them with other Vets and especially their old unit buddies, reminiscing the times they had while serving.
Mike James never talked much about his experiences in the Navy, even to his wife.
Few friends in the Valley could relate to the tense moments he spent operating anti-aircraft missiles from a Pacific warship in the Cold War's final years.
But two decades later, the 47-year-old James feels a tug to find other veterans who understand.
That's why he signed up recently to test a new "Facebook" for the military; ArmedZilla.com.
Created by an Iraq war veteran from Arizona with seed money from Silicon Valley investors, ArmedZilla aims to become the largest online community for veterans, their families, friends and groups catering to the military.
An older generation may have pulled up a bar stool at the American Legion post to trade war stories with friends. Today's vets log on to their laptops.
The site worked for James, who became a Glendale software developer and stand-up comic after the Navy. He found one former shipmate among the 700-plus early adopters of ArmedZilla and thinks more will pop up as the site develops.
"A lot of times you feel alone in your experiences," said James, who recalls nightmares in which, stuck to a hurtling missile, he would come face to face with the enemy and see a framed photo of the Soviet pilot's family in the cockpit. "There were a lot of intense things that were never really addressed."
With ArmedZilla, he said, "I can find people I can relate to. ... It's a common bond."
Soon, this site will feature other unique ways to reach out and touch important Veteran contacts through a special "KeyPoints℗" timeline system that visually structures the Veteran's career and provides quick access to "KeyPoints" in the lives.
ArmedZilla.com according to the CEO David Johnson, "
About ArmedZilla.com
Specifically, ArmedZilla was designed to rally veterans, service members, families, friends and supporters around:

Finally bringing the military community together in one secure place;
Creating a support community to help ease transition from service into civilian life and "mainstream" culture;
Using the power of social media to provide better access to veteran benefits, veteran service organizations (VSOs) and veteran-centric brands and other entities that support them;
Showing pride in and public recognition for military service contributions;
Connecting with people, issues and causes our community deems important.
The ArmedZilla Story
ArmedZilla is the brainchild of David Johnson, an Iraq combat veteran who had his own struggles adjusting to life after service and finding other like-minded individuals who could help with his transition. He realized the need for a network that would allow veterans to easily find and support one another. After searching for existing solutions, David discovered the needs of his community just weren't being met. A new solution was necessary, and that solution is ArmedZilla.
What began as a simple website designed to connect veterans quickly garnered meaningful support from veterans, veteran service organizations, family, friends, global brands and local businesses. This ultimately grew into a greater mission: to create the largest military support initiative in American history. Now, we invite you to join us. Many Veterans will enjoy the unique experience of this Veteran Online Community as it is more in line with the focus of active and non-active Veterans seeking "real" support with military transition, military social media all in one Veteran social network.