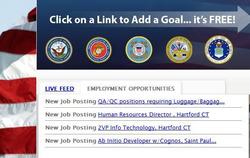 Atlanta, Georgia (PRWEB) August 10, 2009
Unicore Military, a division of Unicore Health, Inc., has recently launched UnicoreMilitary.com, a service-oriented network interconnecting the military community and general public to actively support our nation's wounded warriors and all military members, including National Guard members, reservists, retirees, veterans, and their families.
Using transformational technology, Unicore Military connects users in unique ways. Unicore's Founder and Chief Executive Officer, Raj Pandya, MD, describes Unicore as a system that ''allows users to identify needs of members in the military community and, more importantly, identify ways they are able to meet those needs. Simply put, Unicore creates and enhances opportunities.''
Unicore's Chief Operating Officer, Steve Haynes, an Air Force veteran, describes a simple example of how the system works: ''Take an Army specialist soon after having survived a severe life-changing injury--not only is this soldier experiencing the trauma of the injury itself, but also the very real concerns of what the future will bring. ''If discharged from the Army, how will my family's needs be met? Where will I be able to find meaningful work?'' Now take a Marine corporal who sustained similar injuries, but is six months further down the road and has been through many of the difficult transitions the soldier will have to make. When these two connect on Unicore Military, the soldier is connected with a true mentor who has been through it all. Equally important, you provide that Marine with a means to give back.''
Transitioning out of the military can be difficult under the best of circumstances, but when an injury is added to the mix it becomes even more challenging. Joshua Galle, Unicore's Director of Military Services, is a service-disabled veteran who recently transitioned back into civilian life. ''The military has a wide variety of programs designed to address many of the transitioning military member's needs.'' he said. ''However, none of them provide the personal, hands-on approach provided by Unicore Military. Whether the need is a job, relocation advice, transportation assistance, or to get advice from a mentor, Unicore Military is the place to connect with others to meet those needs and to help others meet their needs.''
Unicore Military is supported by advertisers. All services to the military community are provided free of charge. With Unicore Military, you create a profile and enter your goals either to help or provide a service, to request help or a service, or both. Please register at Unicore Military website and begin reaching out today!
###