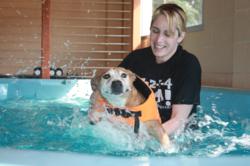 Chinese medicine provides other options in conjunction with and in support of general medicine including end-of-life care and pet aging
Oakland, CA (Vocus/PRWEB) June 28, 2011
Holistic Veterinary Care of Oakland announces that they offer alternative veterinary services to pet owners and their best friends. Professionals of techniques such as acupuncture, herbal therapy, pulse signal therapy, chiropractic care, nutritional counseling, and physical rehabilitation are available at their animal rehabilitation center to answer questions and provide guidance in all areas of pet care and health.
The experts at Holistic Veterinary Care understand that a body in balance is able to heal itself and remain healthy. Holistic medicine helps restore the entire body to balance.
Lee Ritcher of Holistic Veterinary Care reminds pet owners, "Chinese medicine provides other options in conjunction with and in support of general medicine including end-of-life care and pet aging." The goal at Holistic Veterinary Care is to "provide your pets with comprehensive wellness care through all stages of their lives."
Conventional Western medicine is a necessary tool for treating symptoms and "fixing the problem" through drugs or surgery. Unfortunately, this "fix" is sometimes only temporary. Many times, an alternative may be more helpful.
Holistic medicine considers the whole body with a natural approach to health care by addressing any imbalances and blockages at the root of the problem, bringing the body back to balance, and providing permanent relief.
Holistic Veterinary Care technicians know "when vital energies are restored and systems are in balance, your pet can heal and thrive." Their stated mission is to enhance your pet's quality of life by providing a complementary and holistic approach to healing and well-being. The use of both conventional medicine and holistic healing methods provide the best possible overall care for a pet.
An exciting addition to Holistic Veterinary Care is the Pet Pool for your dog to play, exercise, and swim. Pool times are available by reservation.
For more information, Holistic Veterinary Care is located at 4382 Piedmont Avenue in Oakland. Phone number (510) 339-2600. Website: http://www.holisticvetcare.com.
About Holistic Veterinary Care
Holistic Veterinary Care is an Oakland pet hospital that celebrated their grand opening on Piedmont Avenue in May. This facility is one of only a few holistic veterinary clinics in the world.
# # #