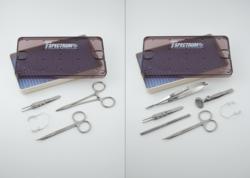 Stow, Ohio (PRWEB) July 23, 2012
Spectrum Surgical Instruments is pleased to announce their Starter and Advanced Veterinary Eye Packs. Designed with input from leading practitioners, Spectrum's Starter Eye Pack includes curved Tenotomy Scissors, a Bishop-Harmon Forcep with teeth, Barraquer Wire Eye Speculum and Webster Needle Holder. Spectrum's Advanced Eye Pack includes a larger assortment of instruments, comprised of a Castroviejo Needle Holder, Bishop-Harmon Forcep, Chalazion Forcep, Barraquer Wire Eye Speculum, Tenotomy Scissors, and Micro Blade Handle. Both veterinary surgical instrument kits now come packaged in fully autoclavable protection cases with soft silicone pin mats and removable lids to conveniently store and protect your Eye Packs. The veterinary instrument packs are backed by Spectrum's famous lifetime guarantee.
For more veterinary surgical instrument information, please call 1-800-444-5644.
About Spectrum Surgical Instruments
Spectrum Surgical Instruments has been providing a full line of surgical instruments for Human and Animal health since 1983. Spectrum is a leading provider of surgical instrument repair, sharpening and restoration. Spectrum Surgical provides surgical equipment to surgery centers and veterinary centers across the United States.
We have taken a leading role in the industry by providing free educational services about surgical instrument care. The goal is to educate those who come in contact with surgical instruments to ensure that all are aware of the impact they have on patient safety. Our commitment to quality has led us to increase our quality systems and improvement initiatives. We work directly with customers and industry leaders to offer technology, preventative maintenance, and quality products designed to improve patient safety.