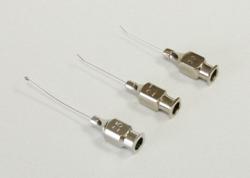 Stow, Ohio (PRWEB) April 25, 2013
Spectrum Surgical Instruments Corp. is pleased to announce their injection cannula set. The set includes three separate cannulas, each made from surgical stainless steel. All three cannulas are equipped with a luer connection that easily fits onto any syringe. The kit contains three sizes: 25 gauge with bulbous tip that is slightly angled, 27 gauge angled, and 30 gauge angled. The order number for the veterinary kit is 24-8161.
For more veterinary instrument information, please contact a Spectrum Customer Care Representative at 800-444-5644.
About Spectrum Veterinary Instruments
Spectrum Surgical is always listening to its customers and incorporating their ideas for the future. Spectrum Veterinary Instruments has been providing a full line of veterinary surgical instruments since 1983. Spectrum is a leading provider of surgical instrument repair, sharpening and restoration. Spectrum Surgical provides surgical equipment to veterinary centers across the United States.
We have taken a leading role in the industry by providing free educational services about surgical instrument care. The goal is to educate those who come in contact with surgical instruments. Our commitment to quality has led us to increase our quality systems and improvement initiatives.