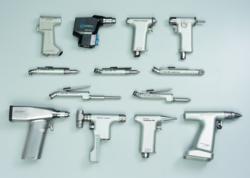 Stow, Ohio (PRWEB) June 29, 2013
Spectrum Surgical Instruments Corp. offers a comprehensive selection of previously-owned equipment. Spectrum's inventory of Certified Pre-Owned Equipment includes many makes and models of pneumatic and battery powered hand pieces, attachments, air hoses, batteries and sterilization/storage cases. All reconditioned items include a full warranty. In addition, Spectrum services all makes and models and offers free evaluations for mail-in equipment repair.
For more information, please contact a Spectrum Customer Care Representative at 800-444-5644 or visit the company's website at http://www.SpectrumVetStore.com.
About Spectrum Veterinary Instruments
Spectrum Surgical is always listening to its customers and incorporating their ideas for the future. Spectrum Veterinary Instruments has been providing a full line of veterinary surgical instruments since 1983. Spectrum is a leading provider of surgical instrument repair, sharpening and restoration. Spectrum Surgical provides surgical equipment to veterinary centers across the United States.
We have taken a leading role in the industry by providing free educational services about surgical instrument care. The goal is to educate those who come in contact with surgical instruments. Our commitment to quality has led us to increase our quality systems and improvement initiatives.