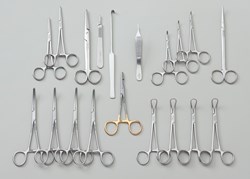 Stow, Ohio (PRWEB) November 19, 2013
Spectrum Surgical Instruments is pleased to offer customized surgery packs for veterinarians. Partner with "The Pack Company" to obtain a custom quotation on your next surgery pack, configured to your exact instrument specifications. With 3 grades of instruments to suit your budget, Spectrum Germany Stainless, Spectrum Middleline® Instruments and Economy grade, a Spectrum Customer Care Representative will assist you in creating a custom pack, complete with your initials or color-coded identification. Backed by the company's World-Class Instrument Warranty, Spectrum's instruments carry a hassle-free guarantee. Additionally, Spectrum offers a broad range of incentives for new practice start-ups and expansions with volume discounts.
Please contact a Spectrum Customer Care Representative at 800-444-5644 or visit the company's website to learn more about our veterinary surgery packs.
About Spectrum Veterinary Instruments
Spectrum Surgical is always listening to its customers and incorporating their ideas for the future. Spectrum is a leading provider of a full range of surgical instrument repair, sharpening and restoration services. Spectrum Surgical has been providing surgical instruments and accessories to veterinary centers across the United States since 1983.
We have taken a leading role in the industry by providing educational resources and services pertaining to the proper care and handling of surgical instruments. Our commitment to customer service and has led us to increase our quality systems and improvement initiatives.