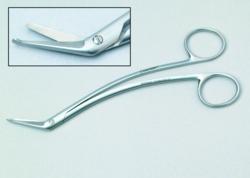 Stow, Ohio (PRWEB) June 03, 2013
Spectrum Surgical Instruments is pleased to offer a unique Bandage Scissor specially designed for intricate bandage removal with exotics and avians. The design of this bandage scissor features a 7-inch length, a fine tip and curved shanks to aid in precise bandage removal in small, delicate and hard to reach areas.This German-made, German-crafted scissor (Order # 50-6191) is produced using the finest German surgical stainless steel and is backed by Spectrum's famous warranty.
For more veterinary instrument information, please call 1-800-444-5644 or visit http://www.SpectrumVetStore.com.
About Spectrum Veterinary Instruments
Spectrum Surgical is always listening to its customers and incorporating their ideas for the future. Spectrum Veterinary Instruments has been providing a full line of veterinary surgical instruments since 1983. Spectrum is a leading provider of surgical instrument repair, sharpening and restoration. Spectrum Surgical provides surgical equipment to veterinary centers across the United States.
We have taken a leading role in the industry by providing free educational services about surgical instrument care. The goal is to educate those who come in contact with surgical instruments. Our commitment to quality has led us to increase our quality systems and improvement initiatives.