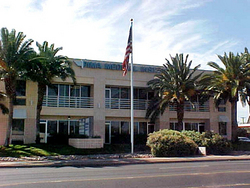 Tucson, AZ (PRWEB) March 10, 2011
Pima Medical Institute, a leading private medical career college, today announced the offering of its latest program at the Tucson campus: the Veterinary Technician program. This associate degree program offers a variety of course subjects designed to train students for entry-level positions as veterinary technicians in veterinary clinics, hospitals, shelters, zoos and more.
The Veterinary Technician program content offers a variety of subjects such as courses in animal nursing, large and exotic animal medicine, diagnostic imaging and emergency procedures. The program takes approximately 16 months to complete.
"Pima Medical Institute is excited to offer a new program in the veterinary field," said Dale Berg, Pima Medical Institute's Tucson campus director. "Our Veterinary Technician program will provide students with both quality classroom instruction and unmatched hands-on experience before they graduate."
According to the U.S. Bureau of Labor Statistics, the demand for qualified veterinary technicians is expected to grow 36 percent through 2018, a figure that is much faster than the average for all occupations.
"Once students complete the Veterinary Technician program at Pima Medical Institute, they will be well-prepared veterinary professionals who will be able to seamlessly adapt to their new positions and address the animal care needs of our community," said Berg.
With the addition of Veterinary Technician program, Pima Medical Institute's Tucson campus offers a total of six associate degree programs and seven certificate programs. In addition to on-ground studies, Pima Medical Institute offers online bachelor's degree programs: Bachelor of Science Respiratory Therapy, Bachelor of Science Radiologic Sciences and the newest, Bachelor of Science in Nursing (RN to BSN).
About Pima Medical Institute
Established in Tucson in 1972, Pima Medical Institute (PMI) is one of the premier medical career colleges in the western United States. PMI is a private, family-owned, accredited school dedicated to providing students with a well-rounded education that offers theoretical classroom studies coupled with real world training on-site at medical facilities. Pima offers a wide range of certification and associate degree programs, such as medical assistant, radiography, veterinary assistant and pharmacy technician.
PMI operates a total of 13 campuses in seven western states, with locations in Albuquerque; Tucson and Mesa, Ariz.; Denver and Colorado Springs, Colo.; Seattle and Renton, Wash.; Las Vegas; Houston; and Chula Vista, Calif. For more information and a complete list of programs offered at each of our campuses, visit pmi.edu or call 1-888-442-5998.
###