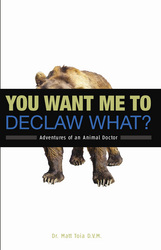 You Want Me To Declaw What?
(PRWEB) January 6, 2009
In his new animal book "You Want Me To Declaw What?" Dr. Toia recounts his 35 years in veterinary medicine, and some of the many peculiar animals and situations that he had encountered "all in a day's work."
You Want Me To Declaw What?
Dr. Toia's warmth, humor, and true respect for the animals he has tended to shines through every page of this delightful book. "You Want Me to Declaw What?" is a treat for both animal lovers and non-animal lovers alike, and proves that the life of a veterinarian is many things, but it is never boring!
A former U.S. Army Special Forces Green Beret turned animal doctor, Dr. Toia utilized many of the skills he learned in the military to treat and save his four legged patients. At times poignant and hilarious, Dr. Toia's animal book "You Want Me To Declaw What?" is one that any reader will delight in.
About Dr. Matt Toia:
Dr. Matt Toia, B.S., D.V.M. received his Bachelor of Science degree at the University of Florida, and his Doctor of Veterinary Medicine degree at Auburn University. He is semi-retired after thirty years as a veterinarian and practice owner who treated horses, companion animals and exotics. He currently works part-time as a relief veterinarian and performs spay/neuter surgeries for humane groups.
Dr. Toia has published several articles in national and state veterinary journals, and is known as an innovator in veterinary medicine. He created the first mobile spay/neuter clinic for small animals in Tampa in 1971, and introduced the first Pet HMO for his patients in 1981. This animal doctor developed a humane euthanasia chamber for rabid animals which enabled animal control personnel to safely and humanely handle and euthanize rabid animals.
He also designed special devices to safely and humanely restrain feral animals.
Read sample chapters from his new animal book at: http://www.authonomy.com/ViewBook.aspx?bookid=3640
Visit the website: http://www.YouWantMeToDeclawWhat.com
###