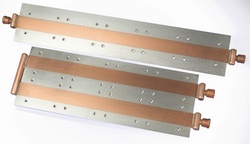 MANCHESTER, N.H. (PRWEB) February 14, 2008
According to Vette Corp North American Power Division President Chris Cutaia, "What makes Aluma-Cop liquid cooling unique is how we designed the tube. The flat tube forms a larger, wider 'cold' surface area against the devices or modules that require cooling. It has a cross-sectional aspect ratio of greater than four to one with internal integral forged fins creating a flow channel optimized for both fin pitch and fin height to width ratios. This achieves much greater cooling performance than typical designs that simply press a smooth bore round copper tube into an aluminum carrier block," Cutaia concluded.
Aluma-Cop cooling solutions can provide cooling to an IGBT power semiconductor device without an aluminum carrier block. In addition to weight and size reductions, this enables the end user to position the IGBT semiconductor modules by simply loosening clamps and sliding the modules into their desired position at any time during the product assembly sequence. Vette designed Aluma-Cop tubes to connect together via manifolds to support all sizes of IGBT power semiconductor applications.
Pricing and Availability
Vette's thermal solutions incorporating Aluma-Cop liquid cooling are currently available worldwide in customized configurations to meet an application's specific needs. For more information on prototypes, customization, attachments, or volume pricing, contact Vette customer service: (585) 265-0330, or visit the company's website http://www.vettecorp.com to find the location nearest to you.
About Vette Corp
Founded in 2004, Vette Corp is a global thermal management solutions provider specializing in solving thermal challenges for leading OEM's, operators and owners of computer, communications and industrial electronic equipment. Vette maintains a growing IP portfolio, with design and applications engineering in Asia and North America. The company operates high-volume manufacturing facilities in both continents.
Vette Corp's extensive solutions portfolio, design and manufacturing capabilities are complemented by world-class supply chain and customer service to offer clients the lowest cost, highest quality, end-to-end solutions available for today's complex thermal problems. Vette is privately held and is headquartered in Manchester, New Hampshire, USA. For more information about Vette Corp, visit http://www.vettecorp.com.