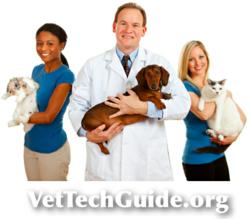 Phoenix, AZ (PRWEB) May 29, 2012
imStudio's new Vet Tech Guide shows everyone that it's never too late to change their career path and do something they've always wanted to do, regardless of time or money. For someone who has always wanted to work with animals, there has never been a better time to become a veterinary technician. A Guide Into the Veterinary Technician Field shares the inside industry knowledge for anyone looking to work beside a licensed veterinarian in an animal medical practice.
Earning a degree and becoming a veterinary technician can be done in as little as two years which gives vet techs a degree and 2 years of job experience before several other people finish their four year degree. There are close to 200 veterinarian technician programs that are accredited by the American Veterinary Medical Association, several online vet tech programs, and a handful of colleges that offer distance learning vet tech programs as well.
Highly rewarding, veterinary technicians have a hand in helping veterinarians accurately diagnose animals when it comes to recording lab work and administering medications and immunizations. Skills a vet tech should be exceptional at include compassion, communication, attention to detail, and maintain a certain level of dexterity when it comes to dealing with animals and their owners.
Security is also a factor within the veterinary technician field. Over the next 10 years, the job market for veterinarian technicians will grow 52% which will result in the addition of 41,700 jobs according to the Bureau of Labor. The average yearly salary for a vet technician tech salary is about $29,710, and has the potential of earning up to $48,000 per year if the technician has a specialized certification.
For more information about how to become a veterinarian technician, including info on specific schools and programs, please visit VetTechGuide.org
About imStudio:
imStudio is a group of marketing experts who provide online services for individuals and companies in various industries such as the HVAC field and underwater welding industry. imStudio guides their client's decisions using comprehensive market intelligence along with a core knowledge of market conditions and trends.
Contact
Artur Ciesielski