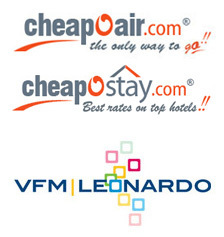 At FAREPORTAL, we pride ourselves on offering the most innovative technology solutions. A key element of that is ensuring that the end-consumers or travel shoppers on our travel sites have positive user experiences
NEW YORK, N.Y. and TORONTO, ON (PRWEB) October 20, 2009 -
FAREPORTAL, a technology solutions provider to the travel industry, has entered into an agreement to source all rich media content and still images for its mutual hotel partners for display on CheapOair.com (one of the top 10 travel sites as reported by Hitwise) and CheapOstay.com exclusively through VFM Leonardo, the leading distributor of visual hotel content. All visual content displayed within the hotel pages of these sites will be presented in an embedded, customized version of VFM Leonardo's industry-leading multimedia viewer.
This agreement means that CheapOair.com and CheapOstay.com are now part of VFM Leonardo's VNetwork. Existing VFM Leonardo customers using either of VFM Leonardo's VScape® or VBrochure™ products will now be able to distribute their visual content to these sites. As the exclusive source for hotel visual rich content, any hoteliers that want to distribute their visual content to these sites must go through VFM Leonardo.
"Visual content plays a role in helping travel shoppers feel comfortable and welcome at a hotel and makes them more likely to book. With FAREPORTAL's travel sites in our VNetwork™, we're enabling our mutual hotel partners to better merchandise their properties on an even larger number of travel websites and influence the booking decisions of millions of content-sensitive travel shoppers online," states Paolo Boni, President and CEO, VFM Leonardo, Inc.
"At FAREPORTAL, we pride ourselves on offering the most innovative technology solutions. A key element of that is ensuring that the end-consumers or travel shoppers on our travel sites have positive user experiences," states Harsh Sood, CTO of FAREPORTAL. "By integrating VFM Leonardo's technologically-advanced multimedia viewer containing hotel specific visual content, we're making it easier for travel shoppers choose the best accommodations for their trips."
About Fareportal
FAREPORTAL is a Travel Technology, Travel BPO (Business Process Outsourcing), Ticket Fulfillment and Call Center solutions provider to the travel industry. Strategically located in "Silicon Alley", in the heart of New York City, our group of Professionals is dedicated to harnessing the future of Online and Traditional travel for FAREPORTAL customers, partners and brands.
About VFM Leonardo
VFM Leonardo is a technology leader in online visual content management and distribution for the hotel industry. VFM Leonardo's VScape® and VBrochure™ products leverage the distribution capabilities of the VNetwork™, the most universally accepted and largest online visual content distribution network for the global travel industry. VFM Leonardo offers the most effective digital asset management and online merchandising systems available today with over 1,000,000 visual images (photos, virtual tours and videos) for 90,000 hotels worldwide currently in distribution across the VNetwork. All four global distribution systems (GDSs) - Amadeus, Galileo, Sabre, Worldspan - as well as Pegasus source hotel visual content exclusively through VScape. Tens of thousands of travel-related channels including online travel agencies, travel research and supplier web sites, search portals; Travelocity, Orbitz, Priceline, Tripadvisor, Yahoo! Travel, Kayak, Google and more also source visual content through VScape, many exclusively. For more information about VFM Leonardo, visit http://www.vfmleonardo.com. Follow us on Twitter at http://www.twitter.com/VFMLeonardo.
Media Contacts:
Julie Vieth for VFM Leonardo Inc.
Toll free: 1-877-593-6634
Phone: 416-263-5446
Fax: 416-593-7572
Email: press (at) vfmleonardo (dot) com
Chloe Gallo for Fareportal
Main: 212-999-5585
Direct: 212-584-4315
Email: cgallo (at) 5wpr (dot) com
###