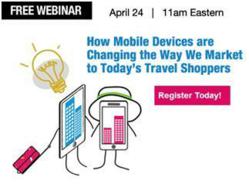 "The exponential growth of mobile usage has opened the door to many opportunities for hotel marketers"
Toronto, ON (PRWEB) April 22, 2013
The exponential growth of mobile usage has opened the door to many opportunities for hotel marketers, but has introduced new challenges as well. As travelers increasingly rely on mobile devices to during every stage of travel, hotel marketers need to step up their game to ensure they're reaching and engaging them along the way.
Join the webinar, How Mobile Devices are Changing the Way we Market to Today's Travel Shopper to learn how travelers are using smartphones and tablets during their travel journeys and how hotel marketers can meet their demands for seamless and optimized experiences.
Webinar Details
Hosted by: Darlene Rondeau, Vice President, Online Merchandising Best Practices, VFM Leonardo
Date: April 24th, 2013
Time: 11 am Eastern Standard Time
Duration: 45 min + 15 min Q&A
Register Now!
Attendees will learn:

Where and how travelers are using smartphones and tablets
How consumers are using multiple screens sequentially and concurrently
Differences in how consumers use mobile apps and mobile browser websites
Elements required for smartphone and tablet optimized hotel websites
How hotels are successfully optimizing their stories for smartphones and tablets
Meet the Speakers
Jed Schneiderman, President, Tapped Networks
Jed Schneiderman is president of Tapped Networks, Canada's top end-to-end mobile marketing solution which provides full service creative - building apps, websites and mobile landing pages. Schneiderman also works as an Advisor at Ryerson University's Digital Media Zone (DMZ) connecting digital start-up companies with larger organizations to help them accelerate their growth and ultimately achieve success. Schneiderman has worked at Microsoft as the Senior Director of Marketing and CTV Television as the Director of Strategy and Business Development, Digital Media.
Al Munguia, General Manager, Jupiter Hotel Portland
In his 7 years with the Jupiter Hotel, Al Munguia has established himself as a key player in Oregon's tourism industry, specifically through his involvement with the Hispanic and LGBT communities of the greater Portland area. Appointed by Governor Kitzhaber, Munguia was unanimously confirmed by the Oregon Senate in July 2011 as a Commissioner to the Oregon Tourism Board. In addition to his role at the Jupiter, Munguia brings over 25 years of international experience in the hospitality industry and seeks to provide a unique voice to the Tourism Commission, known as Travel Oregon.
About VFM Leonardo
VFM Leonardo is a technology and online media company for the global hospitality industry. We provide e-marketers at hotel brands; management companies and hotel properties with technology, sales conversion tools and a global travel media network that enables them to better visually merchandise their hotels to millions of in-market travel shoppers monthly. Our core products, the VScape® Digital Asset Management System and VBrochure™ Online Merchandising System, leverage the VNetwork™ - the largest media syndication network in the industry. It includes all major search engines, Global Distribution Systems, online travel agencies, travel research and supplier websites, search portals, review, travel editorial, local directories and major social media and video-sharing sites. Taking advantage of VBrochure's mobile and social media platforms, hotels can ensure that their rich visual presentations reach consumers on their mobile devices and through their social graphs. For more information about VFM Leonardo, visit vfmleonardo.com.