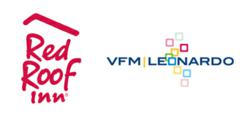 We are pleased to be working with Red Roof to manage their photo distribution and also help their properties create more engaging visual experiences on thousands of channels.
Toronto, ON & Columbus, OH (PRWEB) June 28, 2011
Red Roof® and VFM Leonardo, the leader in online visual content distribution for hotels, today announced that they will be working together to strengthen the way Red Roof is presented online through enhanced photo distribution and visual merchandising.
At the corporate level, Red Roof utilizes VFM Leonardo's VScape® Digital Asset Management System to ensure it's over 345 hotels have consistent and accurate photos available on online channels.
Red Roof has also chosen VFM Leonardo as the preferred vendor for their properties to syndicate virtual tours and video as well as additional photos. By using the VBrochure Online Merchandising System, Red Roof can improve their visual merchandising and increase booking conversions.
"VFM Leonardo's technology and unrivaled network of sites make it easy for us to ensure our properties have photos available to millions of online travel shoppers everywhere they find them," said Marina MacDonald, SVP Sales and Marketing at Red Roof. "We recommend that Red Roof also use VBrochure to make their online listings even more impactful and drive more online travel shoppers to book."
Paolo Boni, President and CEO of VFM Leonardo said, "We are pleased to be working with Red Roof to manage their photo distribution and also help their properties create more engaging visual experiences on thousands of channels."
About VFM Leonardo
VFM Leonardo is a technology leader in online visual content management and distribution systems. VFM Leonardo's VScape® and VBrochure™ products leverage the distribution capabilities of the VNetwork™, the most universally accepted and largest online visual content distribution network for the global travel industry including all four global distribution systems (GDSs), Pegasus and travel-related channels including online travel agencies, travel research and supplier web sites, search portals, review, travel editorial and major social media and video sharing sites. VFM Leonardo offers the hotel industry the most effective digital asset management and online merchandising systems available today and effectively reaches tens of millions of consumers monthly with over 1,000,000 visual images (photos, virtual tours and videos) on more than 30,000 travel and social media websites in the VNetwork including all major search engines, Amadeus, Galileo, Sabre, Worldspan, Pegasus, Travelocity, Orbitz, Priceline, Tripadvisor, Yahoo! Travel, Kayak, Facebook and many more for 90,000 hotels worldwide. For more information about VFM Leonardo, visit http://www.vfmleonardo.com.
Connect with VFM Leonardo.
Twitter
Facebook
Blog
About Red Roof®
Red Roof® is a leader in the economy hotel segment with both franchised and corporate-owned properties, serving millions of guests each year. The company and hotels are known for a warm and welcoming spirit, along with their Smart-by-Design®, value-added amenities that are simple, yet economical, and meet the needs of every guest. With coast-to-coast locations, Red Roof has nearly 350 properties in the U.S. Having completed a nationwide renovation of their properties, the primary goal at Red Roof is to provide customers a savings without sacrificing comfort. Red Roof's new NextGen® hotels feature sleek exteriors with luxuriously appointed and technologically advanced interiors that signal a new era for the hotel chain. Red Roof guests consistently see the brand excelling in expectation and quality in both product and price. Nice Place. Nice Price.™ is what every consumer can expect when they stay at any one of our hotel locations; and because our company has a single brand in our portfolio, Red Roof also offers franchisees One Brand. One Focus.™ Most recently, Red Roof launched its Nicest Price™ advance purchase option, which rewards guests who reserve and pay for their room in advance. The Columbus, Ohio-based company has more than 4,500 employees. For more information or reservations, call 800.RED.ROOF (800.733.7663) or visit redroof.com.
VFM Leonardo Media Contact:
Julie Ford
Toll free: 1-877-593-6634
Phone: 416-263-5446
Email: press(at)vfmleonardo(dot)com
Red Roof Media Contact:
Kim Paysor
Phone: 614-744-2668
Email: kpaysor(at)redroof(dot)com
###