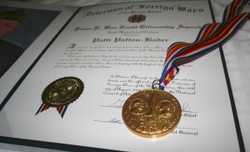 I am so appreciative that the VFW honored Soldiers' Angels with this wonderful award
Pasadena, CA (PRWEB) August 30, 2008
For demonstrating inspirational service and citizenship in founding Soldiers' Angels, Patti Patton-Bader received the Veterans of Foreign Wars (VFW) 2008 James E. Van Zandt Citizenship Award last week at the VFW 109th National Convention in Orlando, Florida.
Through Soldiers' Angels, Patton-Bader has inspired hundreds of thousands of volunteers to display their citizenship by actively supporting American military personnel in this time of war. With over twenty different teams and programs addressing a variety of needs, the organization's 200,000 members assist the deployed, military families on the homefront, the wounded, and families of the fallen.
Patton-Bader sees the award as a testimony to the efforts and effectiveness of the volunteers she leads. "I am so appreciative that the VFW honored Soldiers' Angels with this wonderful award," she said. "Each of our volunteers create ripples of kindness that add up to an ocean of greatness in support of our heroes, and it fills my heart that veterans know they are loved and appreciated."
The Van Zandt Citizenship Award is given in recognition of selfless service and dedication that inspire Americans to better citizenship, and includes a citation and medal. The 2008 citation reads: "Awarded to Patti Patton-Bader in esteemed recognition and utmost appreciation of her selfless contributions and steadfast efforts in providing support for members of the United States military and their families. As founder of Soldiers' Angels, her extreme generosity, benevolent care and ardent concern for America's troops, along with her tenacious dedication, have truly made her an inspiration for countless others, thus in keeping with the highest standards of the Veterans of Foreign Wars of the United States."
The James E. Van Zandt award is given in honor the three-time Commander-in-Chief of the VFW who served in World War I, World War II, and the Korean War before becoming a U.S. Congressman. Other recipients of the award during its fifty years of existence include notables such as Ronald Reagan, Lyndon Johnson, Gerald Ford, Hubert Humphrey, Jeannie Kirkpatrick and Barbara Bush.
The Veterans of Foreign Wars of the United States and its auxiliaries include 2.3 million members in approximately 8,400 Posts worldwide. Its mission is to "honor the dead by helping the living" through veterans' service, community service, national security and a strong national defense.
Soldiers' Angels is a volunteer-led 501(c)(3) non-profit providing aid and comfort to the men and women of the U.S. military and their families. Comprised of 200,000 volunteer members in over twenty different teams and programs, activities include letters, care packages, and comfort items to the deployed, and support for their families at home. The organization also provides assistance to the wounded, continuing support for veterans, remembrances and comfort for families of the fallen, and immediate response to unique difficulties. See http://www.soldiersangels.org for more information.
# # #