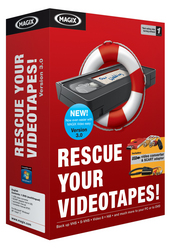 Now users have the option of not only saving these recording but to make them shine like never before
Lanham, MD (Vocus) November 6, 2010
MAGIX announces the newest version of its award winning video rescue suite: Rescue Your Video Tapes! 3, and for the first time it is available on both MAC and PC. MAGIX AG, listed on the Prime Standard (ISIN DE 0007220782)
The general low life expectancy of magnetic recordings is well known and documented, even if they are stored in optimum conditions. Damage caused by passive exposure to magnetic fields, loss of quality due to abrasion caused by normal play, the ever present threat of the chewed-up tape, and the end of the production of VCRs could mean it's the end of the line for a family's VHS recordings.
MAGIX has been in the audio and video business for almost 20 years and knows the importance that people place on their memories. With most of the world switching over to digital and replacing their analogue recorders and players, older recordings have come under the threats of both time and obsolescence.
"Now users have the option of not only saving these recording but to make them shine like never before," said Markus Gunn, VP Sales & Marketing, North America for MAGIX North America. "With advanced tools in video and audio restoration, with easy to navigate menus and options, Rescue Your Videotapes 3 is the solution that gives older media a new lease on life."
Included in the PC package is both the hardware and software that users will need to restore their video recordings to their original vibrancy. With the included audio/video USB interface device, users can connect their computer directly to any video and audio source. The hardware is compatible with direct video, or S-VHS inputs, and stereo audio. With MAGIX Rescue Your Videotapes! 3, it is easy for any users to directly import video as it plays from the video source.
After play-through, users can enhance both the audio and video, bringing it back to its original quality- or even better. With drag and drop functionality, users can easily apply video and audio fixes, titles and effects. The new software allows quick export to both DVD and video files making this process easier than ever before. With integrated YouTube® upload users can share their recovered memories across platforms and across the web.
Regular Price: $79.99 US, until November 11th save $20 ($59.99 US)
Regular Price: $89.99 CAN, until November 11th save $20 ($69.99 CAN)
Highlights:
-Suitable for: VHS, Video 8, S-VHS, Hi8, Betamax or any other tape format
-Complete solution including USB video converter and RCA lead connecting directly to the VCR
-Improve the quality of old recordings (brightness, contrast, color, etc.) (PC Only)
-Export to DVD, YouTube® and as files
-First time on both MAC and PC
New Mac Version: MAGIX Rescue Your Videotapes!
MAGIX is now offering its video rescue package for the first time for the Mac OS, including everything a user would need to digitize and rescue their VHS cassettes: USB video converter, USB extension and the software necessary for recording and converting videos on the Mac OS. No additional hardware is necessary.
The Mac edition of the best-selling video-rescue package* now allows owners of Macintosh computers to recover their VHS, S-VHS, Video8, Hi8, Betamax tapes to a digital copy.
Saving user's irreplaceable video recordings on the Mac with MAGIX Rescue Your Videotapes! has never been simpler.
Highlights:
-For all video input devices
-USB 2.0 port for high-speed video transfers
-Quick start function

Refers to the sales of retail software products in the European market segment of the video-recording software, according to monthly analysis made by Media Control Germany (Media Control Deutschland) (PC / CD-ROM non-games Germany, Netherlands, Belgium, France, Spain ,Italy; and Chart Track UK (10/2008 - 02/2010))
About MAGIX
MAGIX is an internationally operating provider of software, online services and digital content for using multimedia products and services for personal and business communication, and is listed on the Prime Standard of the German stock exchange. MAGIX offers private and professional users a technologically demanding and at the same time user-friendly offer range of products for designing, editing, presenting and archiving digital photos, videos, music, documents and websites.
Measured by retail sales figures, MAGIX is the market leader in the field of multimedia software in Germany and in the most important European markets, and it also counts in the USA as one of the country's most successful market participants.
With almost 20 years of market activity and more than a thousand awards worldwide are proof of the company's innovative power.
2 decades of MAGIX – 2 decades of passion for innovation
MAGIX AG, Friedrichstr. 200, 10117 Berlin
ISIN: DE0007220782
Regulated market in Frankfurt (Prime Standard)
###