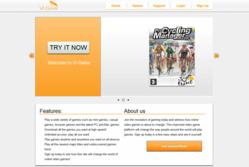 New York, New York (PRWEB) May 21, 2012
Vi-Game.com will attempt to change the video game industry in 2012 with its launch. Vi-Game.com has license deals to over 1600 top PC and mobile games and offers its members a very simple and quick way to access all the games with an inexpensive monthly subscription. "It makes it so that our members can download any game they wish to play directly to their PC, bypassing the need to go to their local retail outlet to buy the game at three times the cost we charge for it.", says Vi-Game.com Product Manager, Scott Bryan. Vi-Game.com makes downloading and playing games extremely simple to allow members to enjoy the site without any hassle.
Vi-Game.com has over 1,600 video games including hit titles such as HitMan, Tomb Raider with more being added every week. Vi-Game.com's monthly service offers all a wide range of game category such as shooter, RPG, action, fantasy and even learning. Members join the site and download a small application to their Desktop PC which acts as a download manager, while keeping their games automatically synced and updated across multiple devices and platforms.
For more information, please contact them at pr(at)PlayFactories.com.
Vi-Game.com is owned and operated by Crop (PlayFactories.com). PlayFactories is an online multimedia and entertainment company focused in the distribution and sales of online video games. They run several highly successful video-game-on-demand services. To contact PlayFactories, please email them at pr@PlayFactories.com or visit http://www.PlayFactories.com