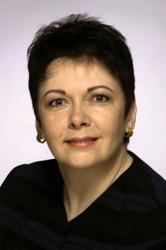 For those who are considering a CCRC as their most desirable retirement option, it's important as part of the overall equation to evaluate the strengths of the care center.
Chicago IL (PRWEB) August 30, 2012
When older adults consider senior living options, the on-site care center at a continuing care retirement community (CCRC) is as important as all the other lifestyle areas found there – the private independent residences, the stylish dining rooms and the state-of-the-art physical-fitness venues alike. So says JoAnne Carlin, MS, RN, NHA, and Vice President of Resident Care at Vi, a developer, owner and operator of older adult living communities.
In comments made recently at Vi company headquarters in Chicago, Carlin said, "For those who are considering a CCRC as their most desirable retirement option, it's important as part of the overall equation to evaluate the strengths of the care center. That's because becoming a resident of a CCRC like Vi helps one to enjoy today, yes, but also to plan for future care needs that may arise as one ages."
According to Carlin, among the important care center factors to consider are:
Number of staff and skill level – What is the staffing ratio for RNs (registered nurses), LPNs (licensed practical nurses) and CNAs (certified nursing assistants)?
"At Vi, we provide assisted living, care for mild to moderate Alzheimer's or related cognitive conditions, and basic skilled nursing care," Carlin said. "Studies have shown there are better resident outcomes depending on the ratio of licensed nurses providing care. In addition to skilled nursing, our assisted living and memory support venues are staffed 24 hours a day, seven days a week, by licensed nurses and other dedicated caregivers."
Philosophy of care – What is the staff focus when caring for residents?
"At Vi, our philosophy of care is to promote independence and build on the strengths of the individual," Carlin said. "This means we staff our care centers so that we can support residents in reaching their potential in the time it takes. This, even though it can take more time to allow a resident to attend to his or her needs with staff supervising than it would if the staff performed the task for the resident."
Staff training – What sort of training is staff provided and what are the goals of the training?
Vi's commitment to employee training and development has been recognized with several national awards. "The goal of our training is to provide our residents with a more motivated, engaged workforce," Carlin said. "We train for clinical expertise, resident-focused hospitality, within the context of state requirements, and we enable staff to create a development plan to advance their careers."
Technology – How is technology used by the care center?
"Technology is more than convenience," Carlin said. "It should serve to promote accuracy, communication between healthcare disciplines and increase efficiency. At Vi, our care center technology includes not only Wi-Fi for residents and families, but electronic health records in skilled nursing and electronic medication administration records in skilled nursing, assisted living and memory support for better internal and external communication. We are continuously reviewing new systems and software that could enhance our ability to provide better care. Currently, we are implementing an electronic medication administration system designed for nurses to manage medication passes in assisted living as well as skilled nursing."
Lifestyle integration – How well is what's going on in independent living integrated into assisted living and care venues?
Carlin said, "While we may have to make modifications based on an individual's functional and cognitive ability, at Vi we make every attempt to uphold the standards and amenities one will find in the independent living setting when residing in assisted living or receiving skilled nursing care. Our care center residents have access to restaurant-style dining rooms in the care venues, fitness equipment and classes, libraries, computer rooms, and beauty shops."
Late last year, Vi commissioned a report by Ken Dychtwald Ph.D., renowned gerontologist, psychologist, best-selling author, and CEO of Age Wave that challenges the "prevailing myths and misperceptions" about CCRC living. The report, "The Five Myths and Realities of Continuing Care Retirement Communities," is available in its entirety at http://www.ViLiving.com.
About Vi
Vi (pronounced vee), formerly Classic Residence by Hyatt, is celebrating its 25th anniversary as a developer, owner and operator of older adult living communities. The company was founded in August 1987. The company is dedicated to enriching the lives of older adults by providing quality environments, services and care. Vi currently operates ten continuing care retirement communities (CCRCs) nationwide. For more information about Vi communities, visit http://www.ViLiving.com.