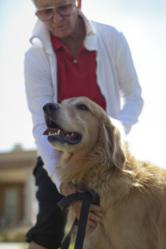 It would have been a deal breaker for me if I couldn't have had my pet at Vi.
CHICAGO IL (PRWEB) February 19, 2013
Vi recently reported that, for some residents, one of the biggest considerations in choosing to move to one of its continuing care retirement communities (CCRCs) is the fact that pets are welcome companions.
"It would have been a deal breaker for me if I couldn't have had my pet (at Vi)," said Kathy Bond, a resident of Vi at Highlands Ranch near Denver, CO, in a recent article posted on Vi's website
Bond has lived in Highlands Ranch since its opening in 2008 and she said the decision to move into her new home was contingent on being able to bring her then one-year-old cockapoo Opie.
"I was worried at first how he would adapt to living in an apartment, but he loves it," Bond said. "He loves sitting out on the balcony looking at all of the birds. He's happy here, and that makes me happy too."
In addition to the pet policy allowing dogs (30 lbs. or less) on campus, Vi at Highlands Ranch also has some unique offerings for its four-legged residents. An enclosed dog run, nearby walking trails and treats from staff members are just some of the perks for pets.
The Vi family of companies develops, owns and operates older adult living communities.
Vi's pet policy may be a good indicator of a trend in retirement living. For example, as many as 40 percent of its clients nationwide inquire about pet-friendly senior living options, signaling that this is one of the most consistent and preferred factors in selecting senior housing, according a report by A Place for Mom®, the nation's largest senior living referral service.
Evidence suggests animal companions can improve the quality of life of older adults. Recently, the University of Missouri's College of Veterinary Medicine Research Center for Human Animal Interaction reported that seniors live healthier, happier lives when they interact with pets on a regular basis.
"At Vi at Silverstone, pets are part of our community activities," said Jacqui McCormley, Director of Lifestyle Enrichment for the Scottsdale, AZ, CCRC, "In the past, we've invited our local veterinarian to our wellness fairs. We also feature residents' pets in our monthly newsletter. During the holidays, Santa stops by for a photo opportunity, complete with holiday outfits and treats for the pets."
In addition to pet-friendly events, Silverstone also offers its four-legged residents an enclosed dog park, complete with a dog drinking fountain.
Vi CCRCs offer independent living with a combination of a private residence, services, amenities and care (for example, assisted living, memory support care and skilled nursing care).
In 2011, Vi commissioned a report that challenges the "prevailing myths and misperceptions" about CCRC living. The report, "The Five Myths and Realities of Continuing Care Retirement Communities," is available in its entirety at http://www.ViLiving.com.
About Vi
Vi (pronounced vee), formerly Classic Residence by Hyatt, is celebrating its 25th anniversary as a developer, owner and operator of older adult living communities. The company was founded in August 1987. The company is dedicated to enriching the lives of older adults by providing quality environments, services and care. Vi currently operates ten continuing care retirement communities (CCRCs) nationwide. For more information about Vi communities, visit http://www.ViLiving.com.