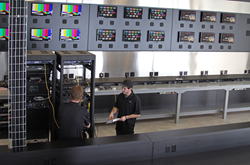 As our Center of Excellence model is refined and perfected, we will aggressively expand the VIA brand to all corners of the US and beyond.
Salt Lake City, UT (PRWEB) March 10, 2014
VIA International, the full-service, luxury home technology provider for today's sophisticated homeowner, has opened its first Center of Excellence, a 15,000 sq. ft. warehouse and production facility in Salt Lake City, UT.
This new state-of-the-art facility is fully equipped to enable VIA to design, document, build, program, test and burn-in complete home technology systems (i.e. - home theater & smart home automation systems) before they are shipped to clients' homes across the U.S. This Center of Excellence is the first of its kind in the home technology integration industry. The facility was carefully designed to manage the flow of VIA projects through the production process – system design, engineering and project documentation, rack assembly, programming, testing and burn-in, packaging and shipping. The custom-designed test bays allow VIA's quality assurance team to quickly connect equipment racks to a large wall full of displays and speakers to test the routing and control of multiple audio and video sources to dozens of zones, including surround sound zones.
In order for VIA project managers to verify system functionality for their projects and schedule project completion with confidence, they have the ability to remotely test, or view the testing of, completed systems through remote access privileges and cameras focused on the equipment racks and testing bays. Just as FedEx enables customers to track the delivery status of packages, VIA soon plans to extend these capabilities to clients who desire the ability to monitor the progress of their system being built. VIA's one-of-a-kind facility and highly refined process of pre-building and pre-testing systems revolutionizes the way advanced home technology solutions are delivered. VIA's unique approach creates two significant competitive advantages – unparalleled system reliability and an expedited process that enables VIA to deliver 100% completed projects at the time of move-in. Arthur Mayo, a founding partner of VIA, states, "Salt Lake City is the first of many Centers of Excellence. Part of the founding members' vision was to introduce innovation to every part of the process. This is one of the first demonstrable examples of how VIA intends to change the industry. We expect that this center creates over fifty new jobs in Utah in the next twelve months with a goal of reaching into the hundreds."
Randy Stearns, CEO of VIA, adds, "Building facilities such as the one recently completed in Salt Lake City allows VIA to scale in a manner that was formerly unattainable. Further, it enables VIA to reduce its cost structure as a result of the low cost of real estate and vast technical talent available in the Salt Lake City market. As our Center of Excellence model is refined and perfected, we will aggressively expand the VIA brand to all corners of the US and beyond." Currently, VIA has 21 locations in eight states and plans to expand into additional major markets before the end of 2014.
About VIA International:
VIA International is the home technology provider for today's sophisticated, luxury homeowner. Our clients enjoy state-of-the-art home technology, an intuitive user experience and concierge-level service. VIA International was founded in 2013 as a platform for a merger between six industry-leading regional home technology companies – Engineered Environments, Paragon Technology, DSI Entertainment Systems, Cyber Sound, S3 Aurant, and Studio AV – all based in Western United States. The company designs and implements turn-key home technology solutions in the luxury home market, including entertainment, environmental control and communication systems, as well as system monitoring and other services. For more information about VIA International please visit http://viahome.com.