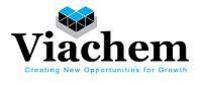 We're excited to have found a partner that understands what we have to offer and knows of markets that want and need our products. It's an opportunity for us to enter our next 60 years focused on serving even more customers with additives that improve the performance of their products
Plano, TX (PRWEB) July 16, 2008
A 60-year old chemical company doesn't get to the stature Raybo Chemical Company has achieved in its industry without having great products and doing things right. So as the company enters a new phase in its history, they plan to also capitalize on new market opportunities for their highly respected lines of specialty additives. They will do that with help from Viachem, Ltd.
Viachem entered the chemical sales and distribution scene in 2006 with a technology and intelligence-based team of industry specialists who represent specialty chemical suppliers and open new market channels with new customers for their products. Over the last two years, Viachem has grown tremendously by serving a number of niche markets with specialty chemical products, including the paint and coatings, ink and adhesives industry, which Raybo has been serving for six decades.
Raybo, which manufactures specialty additives like rust inhibitors, dispersants and surface modifiers is already benefiting from Viachem's industry knowledge and technical sales team, which identifies new market opportunities and niche markets that are underserved, then matches the customer with the supplier.
"Our goal with new suppliers is to help them capitalize on their best product offerings with new customers that may never have been introduced to their products. Many niche customers exist in the paint and coatings industry, and new or small manufacturers may not even be aware of the options available to them for specialty additives. Raybo not only has a broad product line, but also a technical support laboratory that can help manufacturers make product improvements through alterations or additions to their paint or coating products," says Kyle Einhorn, Vice President of Business Development for Viachem.
"Our rust and corrosion inhibitors are of interest to companies large and small that produce any coatings where rust will be an issue, whether in powder coatings or bridge paints, with either water-based or solvent formulations. There is a large and varied market for our specialty additives, which help with dispersion or supply a change in appearance or performance. As a science-based company we don't have the specific expertise in niche marketing that Viachem provides, so we're very excited about this arrangement," says Rick Flowers, president of Raybo.
The match-up of technical expertise and marketing savvy is a new trend in the specialty chemical industry, which is known to offer scientific solutions that make existing products perform better. Viachem's ability to work collaboratively with suppliers to seamlessly deliver specialty additives to paint and coatings, ink and adhesives companies when they need them offers Raybo an industry advantage.
"We're excited to have found a partner that understands what we have to offer and knows of markets that want and need our products. It's an opportunity for us to enter our next 60 years focused on serving even more customers with additives that improve the performance of their products," Flowers says.
For more information, visit http://www.viacheminc.com or http://www.raybochemical.com.
About Viachem, Ltd.
Viachem is headquartered in Plano, Texas, and serves customers nationwide using a sophisticated marketing and sales model that helps manufacturers increase their customer base. Viachem's services to chemical purchasers include third party verification and quality control, as well as formulation assistance and competitive pricing for specialty chemicals used in a wide range of industries. http://www.viacheminc.com
About Raybo Chemical Company
Raybo Chemical Company started its activities more than 60 years ago and was one of the first to market technical additives to the coating industry in the United States. Today, the company is located in Huntington, West Virginia and operates a global network of distributors and agents with sales offices in 31 countries. Raybo currently offers a line of more than 30 products, including corrosion inhibitors, dispersants, surface modifiers, and other specialty additives. http://www.raybochemical.com.
###