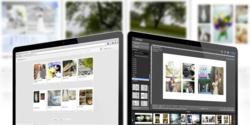 A new creative playground for photographers to share photos online, collaborate, proof and design.
(PRWEB) September 21, 2012
In 2011, ViaPhoto first introduced its new online album design software application that was created for all photographers but was easy enough for anyone to use. The team at ViaPhoto has recently launched an update and unveiled some key new features to make the album design process even easier and more efficient. With features like Photo Album Gallery/Photo Collaboration, Album Design, and Album Proofing, ViaPhoto has become the new playground for photographers.
Create photo collections, share them, and collaborate with others using the new online Photo Album Gallery. The unique online photo collaboration makes it easy to invite staffs or groups of photographers to add photos and create albums together. In addition to creating the photo collections, the photos can be shared on social networks such as Facebook and Twitter with just the click of a button.
Once photos are in the Photo Collection, design the album using ViaPhoto's One-Click Album Design. With this feature, select desired templates and the design is created automatically, saving the photographer a lot of time. Favorite templates can be saved to new folders and individual layouts can be saved as templates and reused in future projects.
Album Proofing, another exciting feature, has been added to make proofing even easier. The current proofing method creates mistakes and wastes time with so many revisions and going back and forth with emails. The new Album Proofing allows clients to leave notes directly on the layouts for collaborators to see and reply to in a threaded conversation.
Sign up free now with ViaPhoto to enjoy all these new features with up to 1gb of storage! Accounts can always be upgraded anytime and pay-as-you-go with no obligation. For better saving, upgrade to the yearly plan and receive 50% off.
ViaPhoto is an innovative photo and album design application that brings people together in the photography community. Whether an amateur or professional photographer, ViaPhoto has it all.
For more information, please visit http://www.viaphoto.com.
# # #