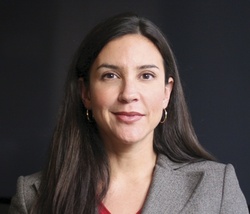 Additionally, I'm looking forward to expanding Vibrant's research to benefit the larger Internet advertising and media marketplace as a whole.
NEW YORK (PRWEB) January 31, 2008
Ms. Garcia joins the rapidly growing company that last week hired Omnicom Digital Media Group CEO, Sean Finnegan, as its new Chief Media Officer and former AOL regional VP of sales John Sedlak to lead it's sales team.
Ms. Garcia will leverage her experience as a leading financial and industry analyst within the Internet advertising sector to develop an internal research unit for Vibrant Media. In her new role, Ms. Garcia will be tasked with providing Vibrant Media's vertically focused advertiser and publisher partners with tangible insights and best practices.
"In 2007 our unique user base grew more than 80% to 120 million users, our advertiser revenue grew by more than 100% and our web publisher network grew by 90% to 3,000 publishers." said Doug Stevenson, CEO, of Vibrant Media. "Denise's extensive background will provide the insight needed to develop strategy and sustain our continued growth."
"Vibrant contextual video and in-text solutions are being rapidly adopted by web publishers, advertisers and end users worldwide. I'm excited by the products and by the opportunity to offer valuable insight into this medium," said Garcia. "Additionally, I'm looking forward to expanding Vibrant's research to benefit the larger Internet advertising and media marketplace as a whole."
Denise's role will also ensure Vibrant Media's leadership position, evident in its recent contributions to the IAB Digital Video Advertising Overview, as well as through its industry event presence.
Biography for Denise Garcia, SVP Corporate Strategy & Research
A pioneer in the in the interactive advertising industry, Denise Garcia joins Vibrant from AG Edwards & Sons where she was the vice president, Internet Equity Research. Prior to joining A.G. Edwards & Sons, Ms. Garcia was Internet Analyst at W.R. Hambrecht + Company. Before embarking on her career in equity research, Garcia served as vice president, advertising and media for Gartner, Inc., where she focused on emerging advertising trends, advertising technologies and subsequent business models.
Ms. Garcia has developed advertising-related growth strategies for several media properties, including the UnderGround Online (UGO), International Data Group (IDG), and CMP Media. While at IDG, she launched The Industry Standard magazine and website. During her tenure at CMP she developed its online channel properties and previously launched the Red Herring magazine and web site.
A graduate of San Jose State University, Garcia's research has been featured in the Wall Street Journal, Forbes, The Washington Post, Los Angeles Times, and the San Jose Mercury News.
About Vibrant Media
Vibrant Media, a world leading video and contextual advertising network, gives marketers the opportunity to deliver highly targeted, user-initiated advertisements within the text of premium Web content. The company works closely with advertisers, agencies and Web publishers to plan, buy, deliver and optimize Vibrant In-Text Advertising across thousands of websites. Vibrant Video provides measurable brand engagement through the largest pay per click video advertising network. Reaching more than 100 million unique users per month, Vibrant Media manages more than five billion words per month for top advertisers such as Sony, Intel, New Line Cinema, Microsoft and Toyota. The company was founded in 2000 and has offices in New York, London, San Francisco, Paris and Hamburg, with more than 170 employees. The Company's rapid growth has been recognized by both the Inc. 500 and Deloitte Fast 50 list for two consecutive years. For more information, visit http://www.vibrantmedia.com
Jobs at Vibrant Media
Vibrant is expanding and currently offers exciting career opportunities. View current job listings here.