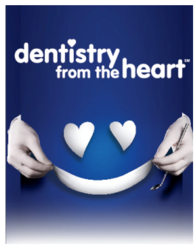 Mesa, AZ (PRWEB) February 02, 2013
Vibrant Dentistry will host it's 2nd Annual Dentistry From The Heart providing the first 100 people who register before 1:00pm with free dental care on Friday, February 15th, 2013. Each of the 100 attendees will have a choice of a cleaning, filling or extraction. Care will be provided on a 'first come - first served' basis for adults 18 years old and over.
Patients have the choice between an extraction, a filling or cleaning. Several hygienists, assistants and other dental professionals will be joining the team of Vibrant Dentistry to donate their time and resources to provide much needed relief to the community. Thousands of dollars of dental care will be donated in good faith.
In order to raise awareness of Dentistry From The Heart, Vibrant Dentistry will sponsor a video contest. Entrants will submit a short video detailing their experience with Dentistry From The Heart. The winner will be awarded a one-year membership to the in-office Dental Savings Plan for Vibrant Dentistry. The Dental Savings Plan was designed to create low cost dental care for individuals without dental insurance. Contest details, an Event Checklist, and other features such as 'Meet The Specialists', are available at http://www.vibrantdentistryfromtheheart.com.
Patients are asked to arrive early to reserve their spot in line for registration which begins at 7:00 a.m. and closes at 1 p.m. Patients are also encouraged to dress appropriately for the weather as they will be waiting outside to be seen, and are asked to take with them any fold-up chairs, blankets, water, and any snacks that they will need. Groups of five will be escorted into the office lounge to wait prior to receiving treatment.
This is the second annual event for Vibrant Dentistry owned by Carl J. Metz, D.D.S., and like hundreds of other Dentistry From The Heart members, it will not be the last. This sort of outreach comes complete with improved smiles, relief from suffering and a warm sense of gratitude that pervades. The services provided by Dentistry From The Heart not only help a patient's teeth and overall health, it gives them a renewed reason to smile.
Vibrant Dentistry is located on the southwest corner of Dobson and Baseline at:
2058 S. Dobson Road Suite 8, Mesa, AZ 85202.
The Impact:
In 2001, Dentistry From The Heart started with Dr. Vincent Monticciolo who wanted to give back to the community and to provide aid to the growing number of Americans without dental insurance. Dentistry From The Heart is a registered non-profit organization that provides free dental work for people in need. Since its inception, Dentistry From The Heart has grown to include over 200 annual events nationwide and has provided more than 60,000 people with an estimated $8 million in free dental care services. For more information, please visit: http://www.dentistryfromtheheart.org