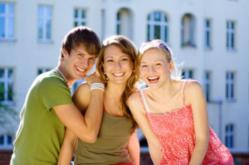 Being diligent and aware of your dentist's continuing education gives you a good idea of what types of treatments they specialize in, and when you might want to be referred to a more experienced practitioner.
(PRWEB) May 20, 2013
Being diligent and aware of the type and quantity of continuing education a dentist experiences provides insight on what types of treatments they specialize in, and when a referral to a more experienced practitioner might be more appropriate.
Luckily, Dr. J Brian Allman's patients have access to a dentist that is well rounded, with fellowships and/or diplomates in 10 different treatment specialties. Dr. Allman's experience and education allows him to gives patients comprehensive care for all of their dental needs without the inconvenience of outside dental referrals.
Dr. Allman's most recent diplomate award from The Academy of Clinical Sleep Disorders Disciplines demonstrates his extensive expertise and commitment to Sleep and TMD. But, with a total of 10 different fellowships and diplomate awards, he also offers comprehensive care in restorative & cosmetic dentistry, oral surgery, orthodontics, geriatrics, and preventative care at his family oriented practice: Vibrant Family Smiles. Anyone who is looking for a caring and compassionate dentist for all of their family's dental needs, is encouraged to call: 775-825-7200 or visit the Vibrant Family Smiles website.
Vibrant Family Smiles is a family dental practice located in Reno, Nevada. Founder, Dr. Brian Allman, an experienced dentist, has provided exceptional dental care to families in Reno and the surrounding areas for over 26 years. With experience in many areas of dentistry, and a focus on providing whole-body care, Dr. Allman and his caring, gentle team can help Reno families meet their oral health and wellness goals. Dr. Brian Allman and Vibrant Family Smiles treat patients like family and can take care of all their dental needs.
The Academy of Clinical Sleep Disorders Disciplines is best described by the mission statement: "The Academy believes in a multidisciplinary paradigm through its invitation to health care practitioners including but not limited to dentists, physicians, psychologists, psychiatrists, sleep technologists, nurses, and nurse practitioners who interact with and/or provide treatment to the patient for sleep-breathing disorders, TMD, or pain."