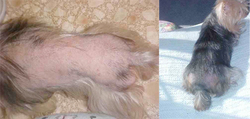 All the time, effort and expense of bringing Vibrant Pets to market is worth it if we can save just one of our pets - but as you can see we have saved many.
(PRWEB) February 9, 2011
Vibrant Pets Senior Complete, the latest product from Vibrant Pets, joins an already impressive product line from the pet supplement provider. No other brand on the market guarantees visible success within two weeks. Go to the testimonial section of their website to view stories from surprised and satisfied customers who witnessed their pets reach their peak health.
Their natural pet supplement formula guarantees to reduce lameness and muscle fatigue, itchy skin, arthritis, joint pain, poor digestion, sensitive stomachs and diarrhea, that are common with old or sick animals, as well as counteracting general malaise associated with depressed immune systems.
"A healthy pet is a happy pet and a happy pet is a joy to the family," says Lee Phillips, Vibrant Pet President.
Compared to the mass-marketed brands on shelves at the local grocer, Vibrant Pets will guarantee results in just two weeks with a fraction of the cost and quantity of supplement. Typically, dog owners can expect to purchase buckets, weighing over 10 lbs each, for a price-tag reaching over $130 to supply the daily amount required to reach guaranteed results. Vibrant Pets dog supplements will deliver 24-hour immune system support for a breakdown cost of 58 cents per day, about half the cost of a cup of coffee from McDonalds, and reduce money spent on veterinarian visits.
Phillips opened a pet grooming salon in 2000. After noticing many dogs entering his shop were suffering from flaky skin, missing coat and muscle and joint problems, Phillips brought in supplements to cater to the nutritional needs of his clients as well. The products subpar performance prompted him to develop a nutritional supplement, Vibrant Pets, with powerful probiotics and digestive enzymes along with vitamins, minerals and system supporters for joints, muscles, skin and coat.
"Animal health and well-being is my passion. Of course we want to have a successful business but most of all we want to improve the life and health of our pets," says Phillips. "All the time, effort and expense of bringing Vibrant Pets to market is worth it if we can save just one of our pets - but as you can see we have saved many."
Phillips has experienced such great success with Vibrant Pets that the company began branching out into cat supplements for Frisky Felines and horse supplements for Vibrant Equines.
Check out their website VibrantPets.com to read and watch real success stories from satisfied customers and to view all their products and resources regarding pet health and well-being.
"Good nutrition is vital to any life period. Even top quality dog foods still lack many of the vital nutrients found in Vibrant Pets' formulas that are critical to a dog's overall wellbeing," said, satisfied customer, Jen Nigriny.
Even large distributors are discovering the effectiveness of Vibrant Pets supplements. Diligad Pet Food Distributors have been distributing Vibrant Pets for almost six years. They have noticed a loyal customer base grow over the years as they have to ensure to stock a large enough supply of Vibrant Pets.
"We have Dilligad retailers throughout the Carolinas and in Virginia and Kentucky and all of them carry Vibrant Pets," said a Diligard representative. "We are also vendors at dog shows from Georgia to North Carolina and we always make sure we bring plenty of Vibrant Pets as it is often a sellout."
For more information contact:
Lee Phillips, President
866-945-7387
Lee(at)vibrantpets(dot)com
# # #