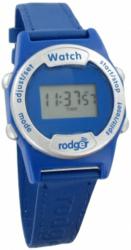 It's hard to make a small watch that has a vibrating feature. That's why we're so excited to be carrying the new Rodger children's watch
Ashton, MD (PRWEB) August 16, 2012
As school season nears, the topic on many parents' minds is daytime wetting. Daytime wetting, or daytime incontinence, is a common condition that occurs as a result of children being so caught up in what they're doing that they don't realize they need to use the restroom until it's too late.
One of the simplest and most effective solutions for daytime wetting is timed voiding. If children empty their bladders at regular intervals, the chances of an accidental wetting are greatly reduced. To remind children to void, many parents and kids choose vibrating watches. These watches are discreet and can be set to go off at regular intervals or specific times during the day.
According to pediatric nurse practitioner Renee Mercer, "The popular style for kids' watches has been getting smaller and smaller over the years. Unfortunately, it's hard to make a small watch that has a vibrating feature. That's why we're so excited to be carrying the new Rodger children's watch."
In addition to being the smallest children's vibrating watch, the Rodger Watch features up to 8 daily alarms that can be set to go off at any time, a countdown timer that can be set to go off at specific intervals, and a lockout feature that, when enabled, prevents children from resetting the alarms. The Rodger can be set to vibration only, sound and vibration, or sound only. Plus, it features band buckles instead of Velcro allowing it to be more adjustable and stay in place better than other vibratory watches.
"It's a well-made product. I think it'll prove very popular" says Renee. "We've always had great experiences with Rodger. They make one of the most popular wearable bedwetting alarms we carry and the most popular wireless alarm."
The Rodger Vibrating Watch is available in Blue, Pink and Grey and can be purchased online for $36.00.
About BedwettingStore.com
The Bedwetting Store is America's one-stop shop for bedwetting items and waterproof bedding. They have helped tens of thousands of children—and adults—since their start in 2000. They are now the largest distributor of enuresis related products in the United States. The Bedwetting Store is proud to serve the millions of families who seek information and practical solutions to help children stop wetting. They feature a wide assortment of quality products at discounted prices. You'll find their information at your child's pediatrician's office, in many popular parents magazines and on the Web, of course. Just ask your child's health care provider about the Bedwetting Store. If they specialize in treating childhood wetting, they'll likely recommend one of their products.