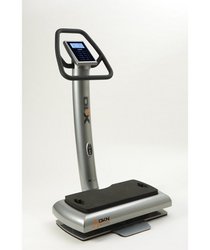 Phoenix, AZ (Vocus) July 6, 2010
Vibration exercise equipment is now available at Fitness4HomeOnline.com, a leading on-line resource for cutting edge, premium specialty fitness equipment.
Technically called Whole Body Vibration (WBV), vibration exercise equipment usually features a vibrating platform (often times incorrectly called a power plate). Better quality machines generally feature a platform that moves vertically while delivering a range of 20hz to 50hz. These mechanical movements cause a reaction called the Tonic Vibration Reflex. This reflex stimulates involuntary muscle contractions (up to 3,000 per minute!). A wide range of studies have shown WBV to be a beneficial modality for a wide range of conditions from diabetes to low back pain to bone mineral density to fall prevention in seniors.
Vibration exercise equipment, such as that offered by Fitness4HomeOnline.com, is beneficial for a wide range of consumers.
"The great thing about WBV and vibration exercise equipment is that it can be used by almost anyone. If someone is de-conditioned or just starting a fitness program, WBV is an easy, non-threatening way to start getting some of the benefits of exercise such as muscle activation and increased circulation," explained company founder, owner, and president Bob Lachniet. "Experienced fitness enthusiasts will find that vibration exercise equipment can augment anything they are currently doing for fitness, or they can even perform a total body exercise program in as little as 10 or 12 minutes on a good WBV machine. And, studies have shown that even elite level athletes can gain significant benefits by incorporating vibration exercise equipment into their training."
For more information about Fitness4HomeOnline.com and their selection of specialty fitness equipment, including vibration exercise equipment, visit their website.
About Fitness4HomeOnline.com
Fitness4HomeOnline.com is a division of Fitness 4 Home Superstore, one of the nation's leading specialty fitness retailers (and rated the top fitness dealer in Arizona by BestFitnessDealer.Com). Fitness 4 Home Superstore is one of the nation's largest dealers for top brands such as True, TuffStuff, Spirit, Powerblocks, and DKN vibration exercise equipment. For more information, visit http://www.fitness4homeonline.com.
###