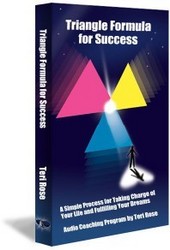 If you wish to upset the law that all crows are black, you mustn't seek to prove no crows are; it is enough to prove one single crow to be white.
Nashville, TN (PRWEB) September 24, 2009
Teri Rose had never heard of a near death experience, vibrational healing, vibrational medicine, or the quantum field. But as she headed down the highway with a friend to see her horses, she was about to learn their meaning firsthand. Suddenly a car turned in front of her. The impact sent her car airborne into a telephone pole, where it came to rest in a ditch.
Teri says, "I don't remember the sound of crunching metal or breaking glass. But I have never forgotten my near death experience or what I was shown about vibrational healing, the power of love and the potential we have. I clearly saw the energetic connection we all share, which has recently been validated by science. And during it all, I was still very much myself and alive with one difference. I wasn't in a body anymore."
But Rose says that nothing about being dead fit with what she had been told. The experience brought her to one conclusion. She had been taught things that weren't necessarily true about the way life works. When she awoke in the hospital, she knew it was time to start doing some thinking and investigating on her own.
What she discovered seemed so unbelievable that for the most part, she kept it and her near death experience to herself for years after seeing the reaction she got from a few people.
In her experiments, she found that when she created something mentally and thought about it in a way that created specific energy, a distinct feeling, it would actually become real. Something would happen or appear that she knew was the result of her process. She began experimenting with mental energy and thoughts back in the 70's when there wasn't an internet or much attention given to the Law of Attraction.
Over 25 years, Rose analyzed the process, studied the components involved, compiled scientific studies, trained in vibrational medicine and life coaching, and founded Peace of Success Coaching. Thankfully, over time, many quantum physicists stepped forward with studies they had been afraid to share with the world for fear of losing credibility in the scientific community. Those studies provided evidence to support the idea that beliefs, emotions and intentions do cause an effect. A body of evidence that is referred to in Triangle Formula for Success indicates that a clearly defined goal or intention actually impacts the energy in the quantum field where we all share a connection. The science referred to is credible. It's repeatable and measurable.
Teri refers to her favorite quote by William James that says, "If you wish to upset the law that all crows are black, you mustn't seek to prove no crows are; it is enough to prove one single crow to be white." Triangle Formula for Success is intended to spotlight many white crows that everyone should know about. But more importantly, it provides simple steps for making practical use of them to improve life.
Teri says, "Vibrational healing isn't just about health. It applies to life-the amount of money that can be made, the kind of offers received, the kind of people that are attracted-everything. We live in a sea of energy that is alive and vibrating and the message sent into it must have focus and clarity in order to get something specific out of it."
Rose says "Many people dabble a little with mind movies, goal board, positive thinking and even vibrational medicine and then say it doesn't work when they don't get results they want." She adds, "That's like wanting a cake, getting some flour, adding some water, stirring and then saying cooking doesn't work!"
Triangle Formula for Success includes all of the pieces that people generally miss when attempting to work with the Law of Attraction. There is no feeling of confusion about what to do. The formula is easy to use, effective and can bring about a great amount of vibrational healing and clearing of distortions and blocks. When the distortions are gone, there is no limit to what can be achieved.
Receive free teleseminar training, thought provoking audio stories and an ebook that proves Teri Rose's point about the power of the mind. Sign up for Peace of Success Newsletter at http://www.peaceofsuccess.com/
###