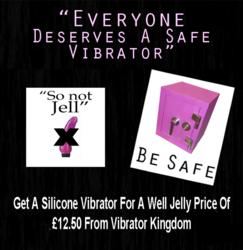 "This introductory and affordable offer is a way of giving people the safe option without the high price they would normally have to pay for a silicone vibrator".
(PRWEB UK) 13 November 2012
Vibrator Kingdom (also known as VK) is a UK based on-line retail shop, selling body-safe vibrators. They felt it was necessary to let consumers of sex toys have the chance of buying a "safe" silicone vibrator for the price of a potentially "unsafe" jelly vibrator and, at £12.50, this is at least a third of the price a silicone vibrator would normally retail for.
"Everyone Deserves A Safe Vibrator" is the title of VK's first campaign that launched at the beginning of November 2012
The campaign was launched for a variety of reasons:
Firstly, sales of sex toys are increasing and vibrators are now becoming mainstream consumer products (with this possibly relating to the success of "50 Shades Of Grey") Ann Summers reported sales of sex toys increased by over 200% post the books release. As a result, safety of these items being sold should be of serious importance, now more than ever.
Secondly, sex toys are not regulated at present and some (especially those commonly know as Jellies) can contain toxic chemicals called Phthalates. These can cause detrimental effects to the health of the person using the jelly vibrator. (Please read the full decision process of the campaign for more information and links to articles discussing the dangers of jelly vibrators and sex toys.
VK felt that some people might be put off buying a silicone vibrator due to its high retail price, as silicone is more expensive than jelly vibrators (normally retailing between £30-£50+ and jellies, on average, costing between just £10-£15). They believe it's necessary for everyone considering buying a vibrator to choose silicone over jelly and to see and feel the benefits of silicone for themselves.
Silicone is non-porous and can be sterilized, therefore reducing the chance of bacteria staying on the material. It is also toxin free, phthalate free and contains no latex that a lot of people seem to be allergic to. This led Vibrator Kingdom to launch the campaign offering people an introductory offer for their silicone vibrator.
The campaign has caused quite a stir via social media, with many well-known sex toy reviewers getting behind the core message that jelly vibrators are not safe (please note that the names below are the reviewer's fictitious names, as they like to keep their anonymity). To find out more information about the reviewers mentioned please visit The Sex Toy Society
INCENDIAIRE "Great idea for a campaign; people deserve to be more well informed and to use only materials that are safe for their bodies".
B00BlALOO "I read your link about the campaign and I can't agree with it more, I think that the safety of materials is so important when choosing and buying sex toys, I think most people assume that because you are able to buy it that it is safe, I know I did until I educated myself on the truth. More needs to be done to move the Jellies out of the market and get companies concentrating on the safety of their customers just as much as the profit when they are designing their sex toys. Silicone is an awesome material with some great qualities and always my preference when looking at toys; you can't put a price on safety! "
MIDNIGHT BOUDOIR is a certified California Exotics "Sexpert" and was awarded the very first seal of approval for sex toy reviewing by Sextoys.co.uk. Midnight Boudoir, who often writes comprehensive reviews for Eden Fantasies (one of the best sex toy retailers in the USA), dedicated a thorough blog post relating to the safe vibrator campaign.
The campaign itself has a note from one of the most well known sex toy reviewers and educators around. NYMPHOMANIAC NESS discusses the dangers of phthalates and as a result no longer reviews jelly sex toys due to her own negative experiences.
It is clear therefore that the campaign is needed and believed in.This is also evident by the volumes of customers taking advantage of the offer. DONNA MAXTED, the creator and owner of VK, said this about the campaign "Above all else it is hoped that the campaign will create awareness of the potential harm that jelly sex toys can cause people. This introductory and affordable offer is a way of giving people the safe option without the high price they would normally have to pay for a silicone vibrator".
Due to the rise in use of vibrators within the UK and globally, it is important that safety of these toys being used is paramount. Today, cash is of great concern for people and it is understandable that a consumer may want to opt for the cheaper option and purchase a product that may be detrimental to their health. With this in mind, and the fact that sex toys are not regulated at present, VK launched the campaign and are offering a safe vibrator at a low introductory cost for November's duration, with the hope of preventing any further negative experiences people may have with jelly vibrators. For more information please contact VK or go directly to get a safe silicone vibrator today