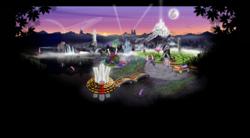 "haha brilliant, I just went to Climax Cove, how did you think of this"?
Northamptonshire (PRWEB UK) 30 January 2012
After 2 years of planning, Donna Maxted's vision to change the way people shop for vibrators online finally came true with the launch of Vibrator Kingdom on 18th Jan 2012.
Vibrator Kingdom is live at last. A new on-line vibrator shopping experience opened its gates to the world and was launched just under two weeks ago. The Northamptonshire based company began with Donna Maxted's vision of creating a fantasy, fun and friendly site for people to purchase vibrators from. The project took just under 2 years from start to finish.
Donna Maxted, who had the idea, believes "love, sex and romance are fun and beautiful so shopping for romance accessories and sex toys should reflect this." With the help of some talented web designers together they created a beautiful, professional and original website. Feedback so far is positive, with the site having just over 250 members within a week of the launch.
Facebook comments include "The site's the best I've seen, not tacky or rushed," "Wow, fab website," and "Haha brilliant, I just went to Climax Cove, how did you think of this?"
Further feedback from people in the trade include "Great work with your website, I told you, we love it" BS-is-Nice (sex toy makers,Spain) "Your site is stunning, really original" ShiriZinn (designer,UK) "VK is like a breath of fresh air" Midnite Boudoir (sex toy reviewer,UK), and the list goes on.
Vibrator shopping is on the rise even in these times of recession; people are staying in and having a good time at home. With advances and acceptance of couples' sex toys, people are now seeing couples' toys as an "investment in their relationship." The Daily Mail predicts sales of sex toys to match those of smartphones by 2020. They are becoming a must-have bedroom accessory. Not only that, but their research has suggested that simply the process of shopping for a vibrator is actually exciting to 60% of women. Therefore it was necessary to create an exciting shopping experience, to begin the excitement whilst browsing for sex toys and vibrators.
The website itself is based on an imaginary world that is completely interactive to the user. It is separated into fourteen areas all with their own wonderful design work and information, from the Magic G-arden and Couples' Retreat, to the Climax Cove and the Pleasure Palace, Vibrator Kingdom is a unique website. It has quirky and innovative details such as the "Foreplay Button" (a twist on the usual "email this product"). The idea being that, by the user sending this product to their lover, they are in fact actually beginning the foreplay or excitement. Another includes VK's very own bulletin with breaking news.
The site was created to give people an enjoyable time whilst vibrator shopping online. With most people engaging in online shopping, it is important that time, consideration and considerable effort is taken to make this experience a good one.
With positive membership results and a buzz throughout social media, VK can say they have achieved their first goal. Keep an eye on Vibrator Kingdom as this evolving world will continue to surprise you.
If you would like to know more please use VK's Contact Form
###