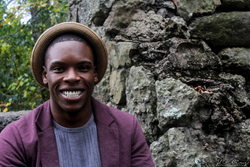 The message my music is conveying is evolution in self and surroundings. My performance conveys the same message my music does but it also embodies the place I was at the creation of the music
Boston, MA (PRWEB) December 18, 2014
Cambridge artist V.I.B.R.E.N.T (Very Intelligent Brother Ripping Every Nasty Track) has begun a series of performances at open mic events around the Greater Boston area. V.I.B.R.E.N.T, whose real name is Grant Fisher, started the consistent performances to share the presence of music that many local artist engage in on a weekly basis.
"Being from Cambridge, I noticed that many musicians support each other no matter the genre of music in our community," Fisher said.
Cities like Boston and Cambridge offer open mic events weekly that give artist the opportunity to perform both original and cover version of songs. Within these communities, artist become familiar with each other's music and style of performance that are unique for audience members.
VIBRENT, during his performance at the Lizard Lounge in Cambridge, showed the audience his abilities in spoken word, singing and rapping. By taking one of his original songs and performing each piece in a different style, VIBRENT received heavy approval from both audience members and fellow performers.
"The message my music is conveying is evolution in self and surroundings. My performance conveys the same message my music does but it also embodies the place I was at the creation of the music," Fisher said, referring to the message he sends through his musical performances.
VIBRENT plans to continue performing and sharing his message at local open mics. For the upcoming year, VIBRENT will work on sending his music to other cities and connect with artist worldwide that share the same ideology.
V.I.B.R.E.N.T 's music can be found at https://soundcloud.com/vibrent.