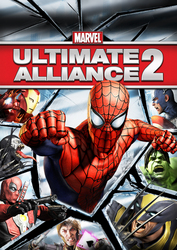 Having a total of nine Full Sail graduates work on a Triple A Title from a major publisher such as Activision is simply outstanding
Winter Park, FL (PRWEB) September 23, 2009
On Thursday, September 24, Full Sail University (fullsail.edu), will welcome game development company, Vicarious Visions, creators of the video game, Marvel: Ultimate Alliance 2, as well as four of the nine Full Sail University graduates who worked on the title, for an alumni panel presentation to discuss the launch and behind-the-scenes making of this highly anticipated game release.
The graduates will be revisiting the Full Sail University campus to speak to students, faculty and staff regarding the release of the game and how their roles as designer, animator, software engineer, and lead audio designer, contributed to the making of Marvel: Ultimate Alliance 2.
The four graduates returning for the panel are: Alejandro Garcia-Tunon (Game Development), Dan Doptis (Game Development), Brad Lindsay (Computer Animation), and Dan DiLallo (Game Development).
"Having a total of nine Full Sail graduates work on a Triple A Title from a major publisher such as Activision is simply outstanding," said Rob Catto, Program Director for Game Development. "This panel will give our current students another valuable opportunity to interact with professionals in the game development industry who have achieved game credits on a mainstream project such as this."
Marvel: Ultimate Alliance 2 is the follow-up game to the critically acclaimed Marvel™: Ultimate Alliance. Vicarious Visions is a video game development company that has developed games for the Xbox, Nintendo DS, and the Wii with games including X-Men Legends II: Rise of Apocalypse, Batman Begins, and Doom 3. In January 2005, Vicarious Visions was acquired by publisher Activision.
About Full Sail University:
Since 1979, Full Sail University, located outside of Orlando, FL, has been an innovative educational leader for those pursuing careers in the entertainment industry. With over 32,000 alumni, graduate credits include work on OSCAR®, Emmy® and GRAMMY®-winning projects, best-selling video games, and the #1 grossing U.S. concert tours. Full Sail's 190-acre campus and online education platform proudly welcomes over 7,000 students from 50 states and 65 countries.
Full Sail currently offers a total of 25 degree programs including: Associate of Science Degrees in Graphic Design; Bachelor of Science Degrees offered in Computer Animation, Digital Arts & Design, Entertainment Business, Film, Game Art, Game Design, Game Development, Graphic Design, Internet Marketing, Music Business, Recording Arts, Show Production, and Web Design & Development; and Master of Science Degrees in Education Media Design & Technology, Game Design, Entertainment Business, and Internet Marketing; and a Master of Fine Art in Media Design.
Full Sail was most recently named the 2008 "School/College of the Year" by the Florida Association of Postsecondary Schools and Colleges. The university has also been previously named: The Harvard of Game Schools by Tips & Tricks Magazine; one of the top three New Media Schools by Shift Magazine (alongside the Massachusetts Institute of Technology and New York University); one of the Top Five Game Degree Programs in the world by Electronic Gaming Monthly; one of the Best Music Programs in the country by Rolling Stone Magazine; one of the Best Music Business Departments in the Schools That Rock: The Rolling Stone College Guide; and one of the Best Film Programs in the country by UNleashed Magazine.
For more information about Full Sail, please visit http://www.fullsail.edu.
###