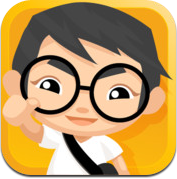 Build, hire, and upgrade the ultimate virtual school.
(PRWEB) July 10, 2012
The new Philippine-based gaming company, ViceAge Entertainment, has released the second update of their first and latest iOS app, SchoolVille. The updated version, SchoolVille 1.2, comes with improved performance of a bug-free app that will let the SchooVille fans experience more fun and entertainment. SchoolVille 1.2 is now available for download from the App Store for iPhone, iPod touch, and iPad with iOS 4.2 or later.
What's new in SchoolVille 1.2?

Small bugs have been fixed to make SchoolVille more fun and exciting to play.
Mission rewards have been increased, as well as earnings from bus fares.
Convenient Facebook integration to share accomplished missions and compare scores in SchoolVille.
SchoolVille is a free micro-management app that lets the player experience how it's like to build, hire and upgrade while managing multiple school buildings in a fun and challenging way. The goal of the player is to be the largest, richest and most popular multi-millionaire school developer there is in the metro. SchoolVille lets the players strategize their own tactics on how to organize their school buildings and in which mission they should spend on first.
The challenge of the game will first come from balancing and maximizing the resources that the player has. The trick is to invest on things that are necessary like staff and certifications. There are also standards that are needed to be taken care of like school campus hygiene and security.
SchoolVille possesses factors that will keep the players hooked for hours that pausing for a break will be hard. The game structure has been attracting players for its simple and user-friendly interface that any player of all ages will definitely be amused. SchoolVille has easy to follow instructions and continuously play the game like they've been a pro for quite a long time already.
Facebook integration where the players can now brag to their friends about their accomplished missions and tell the world how good they are in managing and organizing multiple schools. In which, the players can also now monitor in Facebook the progress of their friends who are also playing the same game.
ViceAge Entertainment is a new publishing company founded by game enthusiasts and married couple, Miguel and Nicole Syjuco. The founders started the gaming company after 2 years of successfully developing and managing an unofficial fan site for a popular Facebook game. The couple created ViceAge Entertainment making applications for iOS mobiles. ViceAge Entertainment is more than just about becoming a popular gaming company, the company also aims to be the country's monster technological hub in the near future.