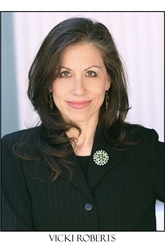 She's an interesting character from what I have read
Los Angeles, CA (PRWEB) October 26, 2010
NBC's hit show, The Event, is garnering huge ratings for its story line and one central character whom some have described as a cold-hearted assassin with a heart of gold: Vicki Roberts. But will the real Vicki Roberts please stand up?
Television personality Vicki Roberts is fielding phone calls and fan mail for her counterpart's exploits on the hit NBC show, The Event, starring Blair Underwood as the President of the United States and Jason Ritter as Sean Walker. "She's an interesting character from what I have read," states the real Vicki Roberts, who is a series regular on truTV's Disorder in the Court television show and who has appeared on numerous television shows including CNN/Headline News' Issues With Jane Velez-Mitchell, Celebrity Justice, MSNBC's The Abrams Show, Extra, and a host of other news and entertainment television shows related to the litigation and analysis of high profile and newsworthy cases. "Some of the comments in the blogs suggest that my counterpart is a cold-hearted assassin with a heart of gold, although I question any attribute to an assassin that would coddle her or tug on any heartstrings," she cautioned.
Vicki Roberts also co-starred on the internationally syndicated television show, Jury Duty, and has a memorable cameo in the acclaimed mockumentary Being Michael Madsen, which features Michael Madsen, Virginia Madsen, David Carradine, Harry Dean Stanton, Lacey Chabert, and Daryl Hannah.
As a 27 year veteran civil and criminal litigator and appellate practitioner, former Judge Pro Tem for the Los Angeles Municipal Court, and on air legal commentator, Vicki Roberts has contributed her legal analysis to newspapers and magazines worldwide, and has been quoted in The Wall Street Journal, The Jerusalem Post, USA Today, People Magazine, FoxNews.com, NBC.com, and many other newspapers, magazines, and on-line news sources. She has advised reporters concerning stories about celebrities in the news with respect to legal aspects, procedure, law and motion, and similar matters. She is an associate member of RTNA, the Radio Television News Association. And Vicki is a leading attorney contributor to the 2007 book Beyond a Reasonable Doubt Introduced by Larry King.
"Thankfully, my career is a far cry from being an engaging assassin," jokes Roberts. "The character is an assassin, but I don't want to engage in character assassination because it is amusing to be getting fan mail for her," she adds.
Vicki, whose official website is http://www.RestMyCase.com, is busy gearing up for the next season of truTV's Disorder in the Court. "We are tentatively scheduled to shoot the winter 2011 season in late November and December," says Roberts. "It's always fun to parse the crazy antics that sometimes occur in the context of serious court or legislative proceedings," she notes, adding, "well, it's supposed to be serious," she says with an impish smile.
In her spare time, Vicki, who is a huge animal lover, supports worthy animal causes and events and spends time with her dog, Chauncey, her two cats, and her two cockatiels. For more information about Vicki Roberts and to inquire about appearances and speaking engagements, please contact her through her publicist, kismetproductions(at)hotmail(dot)com.
###