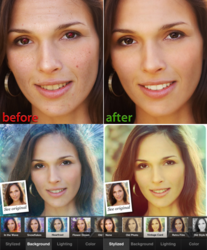 What users say:

"Whether you prefer iOS or Android, you want to look beautiful. The Visage Lab app can enhance your portrait in just one click."

"I totally loved it! It smoothed my face and didn't do huge changes so it still looks natural."
(PRWEB) May 20, 2013
While browsing through the App Store or Google Play, one can find plenty of photo editing apps. Though they allow editing photos with multiple tools, filters and effects, not many of them are able to retouch portraits. Welcome an app that helps one easily improve facial photos - Visage Lab.
The app is available for both iOS and Android platforms. It removes pimples and wrinkles, outlines the eyes and whitens the teeth in seconds with all operations made automatically. After installing Visage Lab on a mobile device, the user will get a portable beauty laboratory for enhancing portrait photos any place, any time.
Visage Lab has several advantages over the alternatives, such as fully automatic face detection and enhancement and high quality retouch. While other photo editors usually perform only partial face retouching, Visage Lab offers a full-package approach to image enhancement. Another distinctive advantage is that makeup made with Visage Lab gives the portrait a natural look, so that one can never tell a photo has been edited.
Alongside with face retouching, the app provides 40+ classy effects. These photo effects are divided into four categories: 'Stylized', 'Background', 'Lighting' and 'Color'. Each category includes about 10 effects that can add more style and character to the photo. A more detailed look at the categories is given below.

'Stylized' effects can give the photos a touch of old times or add more flair to them. For example, the portrait can be converted into a black-and-white one, turned into a last-century postcard or processed with the famous Dave Hill effect.
'Background' effects can brighten up the photo and make it look really romantic. A magic change of the background scenery of the photo from summer to winter happens in one click!
'Lighting' effects make it possible to add fantastic lighting effects to the photo. User can make the night version of his/her favorite portrait in spite of the fact that it was taken in daylight. Or illuminate the photo with bright floodlights.
Changing color temperature and color balance of the image means a lot. Different color schemes can make your image look retro-ish or bizarre, romantic or dramatic-looking. The 'Color' category also contains a few effects for the devotees of sepia.
It is only natural that users of the retouching app would want to compare the original photo with the enhanced one. For this aim the original photo kept stuck to the bottom left corner. Once touched, it will appear instead of the edited photo. Users can switch between the 'before' and 'after' versions to feel the difference.
Enhanced photos can be saved to Camera roll/Gallery, instantly shared on Facebook, Twitter, Instagram, Pinterest or sent via e-mail right from Visage Lab.
Along with the free version of this app, there are paid versions: Visage Lab PRO HD for iPhone/iPad and Visage Lab PRO for Android. The PRO versions are ad-free, contain more effects and filters and don't watermark photos. Besides, in PRO applications results are saved in high resolution.