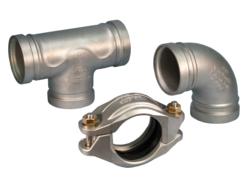 Perth, Australia (PRWEB) September 05, 2011
Victaulic, the world's leading manufacturer of mechanical pipe joining systems, announces the launch of the StrengThin™ Piping System, which features a proprietary groove profile for unmatched high-pressure performance on thin-wall Duplex and Super Duplex stainless steel pipe. The StrengThin Piping System enables direct pipe-end forming of the new groove profile on Schedule 10S and Schedule 20 Duplex and Super Duplex stainless steel pipe up to 16 inches in diameter, and delivers superior performance over previously required thicker wall Schedule 40S cut-grooved pipe. The StrengThin system can significantly cut piping installation time for an entire high-pressure piping system, lower costs, improve safety and reduce project risk during the construction of desalination facilities.
The StrengThin groove is formed using proprietary end-forming technology, which creates a unique groove profile for superior joint strength. The groove and sealing surfaces are "lifted" above the interior diameter (ID) of the pipe. StrengThin technology helps reduce plant construction costs by allowing thinner-wall Duplex or Super Duplex stainless steel pipe to be used on high-pressure piping systems. It also saves time by accelerating pipe fabrication and installation, thereby reducing the piping construction schedule and allowing more time for testing, commissioning and plant turnover.
The Victaulic StrengThin Piping System includes a full range of couplings, fittings, valves and a pipe preparation tool. StrengThin couplings are available as rigid or flexible, and all StrengThin couplings feature the Victaulic proprietary anti-biofouling Grade "EW" gasket. The Grade "EW" gasket is designed using a Victaulic-engineered compound that does not contribute to microbiological growth.
Through an exclusive relationship between Victaulic and MTS, the StrengThin system also features Super Duplex high-pressure plug valves from MTS with StrengThin grooved ends for fast, easy field installation, eliminating the need for valves to be sent to a fabrication shop to be welded onto pipe spools.
The StrengThin Piping System includes a range of Super Duplex fittings, including elbows, tees, caps and reducers. The fittings are cast with StrengThin grooved ends, and enable quick, easy field installation. With a union at every joint, the StrengThin Piping System provides easy system access when needed.
The StrengThin system is offered in 2-16 inch (50-400 millimeter) sizes and is rated up to 1,200 psi (8,200 kPa) with a minimum safety factor of three to one.
Visit the Victaulic water system piping page to learn more about the StrengThin Piping System and other solutions for SWRO and water treatment facilities.
About Victaulic
Founded in 1925, Victaulic is the world's leading producer of mechanical pipe joining systems. Headquartered in Easton, Pa., Victaulic has manufacturing and distribution facilities worldwide and employs more than 3,500 people. The company develops products for a full range of industrial, commercial and institutional piping system applications. Keep in touch with Victaulic on Facebook, Twitter or LinkedIn.
# # #