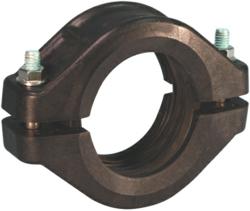 Easton, PA (PRWEB) April 25, 2013
Victaulic, the world's leading manufacturer of mechanical pipe-joining systems, introduces the Style 171 flexible composite pipe coupling. The Style 171 is an engineered composite coupling for use where corrosive conditions exist. Ideal for reverse osmosis (RO) skids in vertical and horizontal installations, the Style 171 enables quick and simple installation and provides substantial gains in productivity.
Featuring Victaulic installation-ready technology, the Style 171 eases and speeds installation. The Style 171 does not require disassembly prior to installation; the coupling is simply pushed onto the pipe end as a fully assembled unit and tightened using standard hand tools. The coupling's design reduces labor hours to complete system installation, eliminates loose components that could be dropped or lost, and reduces installation clearance requirements.
The Style 171 creates a flexible pipe joint, accommodating expansion, contraction and deflection in the piping system.
The injection molded engineered composite housing offers corrosion and UV resistance, and is lighter in weight than ductile iron and stainless steel couplings.
The Style 171 coupling can be used to join standard roll- or cut-grooved PVC and cut-grooved HDPE pipe. The coupling can also be used on stainless steel and FRP. The Style 171 is available in 1½ to 4-inch (40 to 100 millimeter) sizes, and can withstand pressures of up to 150 psi (1,034 kPa), depending on pipe material and wall thickness. The Style 171 is supplied with the new Victaulic Grade "E2" EPDM gasket, and is suitable for operating temperatures of 33 to 130 degrees Fahrenheit (1 to 54 degrees Celsius).
For more information about the Style 171 and other solutions for the RO market, please visit the Victaulic desalination and reverse osmosis piping systems page.
About Victaulic
Since 1919, Victaulic has been the world's leading producer of grooved mechanical couplings and pipe-joining systems. Used in the most demanding markets, Victaulic innovative piping technologies and services put people to work faster while increasing safety, ensuring reliability and maximizing efficiency. The company has 15 major manufacturing facilities, 28 branches worldwide and over 3,600 employees who speak 43 languages across the globe. With more than 900 active global patents, Victaulic solutions are at work in 115 countries across diverse business lines including oil and gas, chemical, mining, power generation, water and wastewater treatment, military and marine, as well as commercial building and fire protection. For more information visit http://www.victaulic.com and follow us on LinkedIn, Facebook, Twitter, and YouTube.
# # #