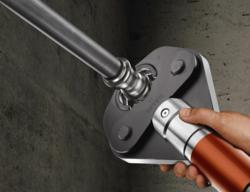 Easton, PA (PRWEB) November 08, 2012
The Victaulic Vic-Press system, a flame-free press-to-connect system that joins off-the-shelf stainless steel pipe in a matter of seconds, has been honored with two awards for product innovation. Vic-Press was selected as a bronze winner in ACHR the News' Dealer Design Awards and as the silver award recipient in the plumbing and water management category of Consulting-Specifying Engineer's 2012 Product of the Year Awards.
Vic-Press is the industry's first press-to-connect pipe-joining system for off-the-shelf Schedule 10S stainless steel pipe. The system offers increased strength and durability and improved flow characteristics compared to light-wall tube systems; safer, more efficient pipe assembly than welding, threading and flanging; and meets or exceeds industry standards such as ASME B31.1, B31.3 and B31.9. Vic-Press is FM approved and NSF 61 annex G certified. With pressure tolerances of up to 500 psi, Vic-Press offers the highest pressure rating of any stainless steel press system currently on the market. The system is ideal for a number of wet and dry industrial and commercial applications, including potable water, oil, compressed air, lubricated air, gases and general chemical services.
The Dealer Design Awards recognize contractor-oriented products with features that assist in installation, maintenance and service of installed products to the HVACR industry. Vic-Press was recognized by contractors for its ease of use and excellence in HVACR product design. Judging is conducted by a panel of independent HVACR contractors who rate entries for ease of installation, maintenance, service, overall design, uniqueness and impact on the HVACR industry.
The Consulting-Specifying Engineer Product of the Year Awards recognize new products in engineering markets such as HVAC, fire and life safety, electrical, and plumbing and water management, among others. The annual readers-choice awards program is designed to provide the publication's readers with information about the top new products in their fields. This year, 98 finalists were named in nine categories, and readers voted on the top products in each category to narrow the field to 32 winners, each recognized as gold, silver or bronze recipients.
These awards mark the second and third industry recognition for Vic-Press. Earlier this year, Vic-Press was named the bronze recipient in the Plant Engineering Product of the Year Awards.
Visit the Victaulic website to learn more about the company and its history of pipe-joining innovation, or for more information about Vic-Press, visit http://www.vic-press.com.
About Victaulic
Founded in 1925, Victaulic is the world's leading producer of mechanical pipe joining systems. Headquartered in Easton, Pa., Victaulic has manufacturing and distribution facilities worldwide and employs more than 3,500 people. The company develops products and services for some of the world's most demanding markets, including oil, gas and chemical; mining; power generation; water and wastewater treatment; and military and marine systems; as well as commercial building and fire protection applications. Keep in touch with Victaulic on Facebook, Twitter or LinkedIn.