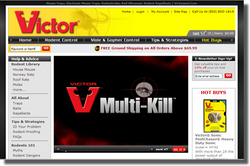 Lititz, PA (Vocus) October 29, 2008
The recently re-launched Victorpest.com website is the new headquarters for all your rodent control needs and questions. From rodent control tips & strategies to the most effective line of rodent control products – it's all there!
Are mice really attracted to cheese? What are the best rodent trap baits? How do ultrasonic rodent repellents work and where should I place them? Unless you work on professional pest control, it may be difficult to get direct answers about how to deal with a rodent problem in your life.
Victorpest.com brings you direct, easy-to-understand and to-apply rodent control strategies from our own panel of rodent control experts. Want to know a bit more about rodents? Log on to the rodent library. Want to know how to inspect your home for a rodent infestation? Print the rodent inspection checklist. Not sure whether rodents represent a danger for you and your family? Do not miss the Rodent Dangers section.
Victor® is also the online home of the leading rodent control solutions of the marketplace. From state-of-the-art electronic traps and ultrasonic rodent repellents to the classic Victor® snap mouse trap you will find the right solution for your rodent problem.
The Victor® eStore offers several features for a satisfying shopping experience. To put your mind at ease, all transactions are protected by the Verisign® Secure Socket Layer (SSL) encryption technology - one of the most prevalent and secure systems available online. Also, the new site is tested daily to pass the McAfee® SECURE Security Scan. So log on now.
For more information, please visit:

About Victor®:
Victor® is recognized as a world leader in the rodent control category and has been a trusted brand name since 1890. Victor® revolutionized the rodent control market 100 years ago with the invention of the spring-based Victor® Mouse Trap.
Today, we continuously strive to manufacture innovative, quality products that keep your family safe from the dangers rodents pose. Our current product offerings are targeted to meet the varying needs of you, the consumer! So, whether you are attempting to prevent a rodent infestation or trying to fight one, there is a product to fit each and every situation.
Victor® and Victor®PestChaser® are registered trade marks of Woodstream Corp.
About Woodstream Corp:
Woodstream Corporation is a long-standing, privately held company and a leading manufacturer and marketer of quality-branded wild bird feeders, rodent control products, caring control products for pets and wildlife & natural solutions for lawn.
###