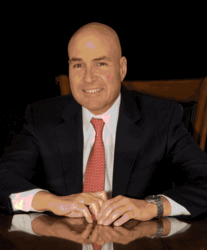 The work we do at the firm is important, and we know it impacts our clients' lives, those of their families, and often their extended families.
Lebanon, NJ (PRWEB) February 21, 2013
Victor Rotolo was recently selected as a member of The National Trial Lawyers: Top 100 Trial Lawyers. Rotolo has also been named one of the Top 100 Litigation Lawyers in New Jersey for 2013 by the American Society of Legal Advocates (ASLA).
The National Trial Lawyers: Top 100 Trial Lawyers is an organization comprised of the "premier trial lawyers from each state in the nation who meet stringent qualifications as civil plaintiff and/or criminal defense trial lawyers" per its website. Membership is limited to "the select few of the most qualified attorneys from each state who demonstrate superior qualifications of leadership, reputation, influence, stature and public profile." Selection begins with third-party research combined with peer nominations. Within each state, the most qualified attorneys meeting these strict qualifying criteria are extended an invitation to join the organization. Victor Rotolo graciously accepted The National Trial Lawyers: Top 100 Trial Lawyers' invitation.
The second group, the nationwide ASLA, is also an attorney-member organization. The ASLA solicits attorneys who possess "stellar legal credentials with a proven commitment to community engagement and the highest professional standard" per the ASLA website. Selection of the Top 100 Litigation Attorneys began with six months of independent research on tens of thousands of candidates and concluded with the announcement of the top 100 attorneys for multiple areas of practice by state. The ASLA invites attorneys named as "Top 100 Attorneys" to become members and, therefore, limits membership to no more than two percent of all attorneys nationwide. Named as a Top 100 Litigation Attorney in NJ for 2013, Rotolo became eligible for and accepted the ASLA invitation.
Rotolo began his involvement with the justice system as an Elizabeth NJ police officer. Returning to school to pursue his aspirations to foster justice, Rotolo went on to become an attorney subsequently opening his own firm in 1987. Because of his diverse background, Rotolo gained a thorough, well-rounded working knowledge of the justice system bringing a unique legal perspective to his law practice. Since that time, Rotolo has served the Hunterdon County area from his Lebanon, NJ-based law firm. Now with over 30 years of experience in the areas of divorce and family law, personal injury, criminal defense, business litigation and general trial practice, Rotolo continues to accumulate distinctions.
Of note are Rotolo's appointment by the NJ Supreme Court to the Supreme Court of New Jersey District XIII Ethics Committee, serving as the Vice Chair and subsequently Chair (2009 to 2011) and his being named to the New Jersey list of Super Lawyers® for eight consecutive years (2006 to 2013).
Rotolo and the attorneys at his law firm are committed to serving the needs of the community by offering a full spectrum of legal services. The firm's lawyers participate in educating the community on how interactions with the justice system may impact life goals. Additionally members of the firm serve on not-for-profit boards and volunteer in local, not-for-profit organizations.
When asked about his membership in The National Trial Lawyers: Top 100 Trial Lawyers and his selection to the Top 100 Litigation Attorneys in NJ for 2013, Rotolo responded, "I am obviously honored. The work we do at the firm is important, and we know it impacts our clients' lives, those of their families, and often their extended families. We realize the critical importance of providing the highest quality legal representation to each and every client. It's wonderful that our work is recognized."
A 1982 graduate of Seton Hall Law School, Victor Rotolo earned his undergraduate degree from American University (Washington, DC) magna cum laude and is certified by the New Jersey Supreme Court as a Certified Civil Trial Attorney. A resident of Hunterdon County for the past 27 years, Rotolo lives in Lebanon with his wife, Cindy, and their children. When Victor is not practicing law, you can often find him on the golf course, hiking, or cooking.
About The Rotolo Law Firm
The Rotolo Law Firm, founded in 1987 by Victor Rotolo, is located at 502 U.S. 22 W in Lebanon (Hunterdon County), New Jersey. The firm handles divorce cases and family issues, accident and injury cases, criminal defense, municipal court matters, business contracts and disputes, and appeals.
For more information, call 908-534-7900, email Victor Rotolo directly at vrotolo(at)rotololawfirm(dot)com, or contact The Rotolo Law Firm online.
Media Contact
Patricia Birchenough
Hunterdon Business Services, LLC
908-638-1166
http://www.hunterdonbiz.com