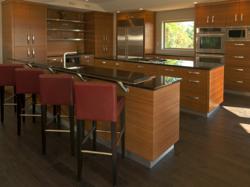 There are some really great builders out there, they just get lost in the crowd.
Victoria BC, Canada (PRWEB) October 19, 2012
The number of standards set forth for residential builders is substantial. The BC building code is a thick set of rules, detailing the strict specifications a contractor must stick to if they wish to pass inspection. Ask any builder who has ever gone through a failed inspection, and you may hear them grumble about a lousy half inch that ruined the entire week.
So why is Keith Andrews, a local builder, starting his new company with a call for higher standards in the construction industry? The logic is not immediately apparent, but he makes his case well.
"Too many contractors are aiming for a low mark," says Keith, a third-generation builder in Victoria BC. "Build something good enough to pass inspection, and we can all get paid on Friday. There's no pride there. It's lazy."
His perception of a problem in the residential housing industry has led to the creation of Nu-View Homes, a general contracting business in Victoria BC that builds custom homes and renovations with the promise of reliable quality craftsmanship.
"There are some really great builders out there," he adds. "They just get lost in a crowd. It's tough for people to trust when they don't know what they're getting."
BC has seen problems with quality control in the past. The leaky condo crisis was sparked close to three decades ago when our national building code failed to meet the needs of a coastal climate.
A report by the Homeowners Protection Office in 2008 estimated that as many as one third of the condos suffering from premature envelope failure as a result of the leaky condo crisis would remain unrepaired by 2012. New data was not released as the following year witnessed a dry up of funds for homeowners affected by the crisis.
"Homes should last forever, but BC homeowners haven't had the best experience. It shakes your faith," says Keith.
"We need to start earning that trust back in the community. Builders need to be accountable."
Nu-View isn't the first to call for changes in BC. The BC Building code was last updated in 2006 and additional proposed changes to the building code have been in the works for close to a year. The changes were to be announced early in the spring of 2012, while becoming enforceable in the fall. Subsequent delays have since set the project behind, and the Office of Housing and Construction Standards currently has no time-frame for unveiling any changes in the current building code.
In the meantime it's up to our trades-persons to take up the slack in assuring the highest quality of our homes and offices. Perhaps a little restored pride is just what the housing industry needs.