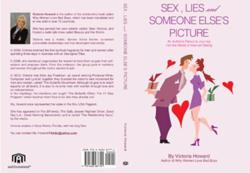 "This is a MUST HAVE book for ANYONE who is about to join or is already a member of online dating," said Howard. "This is a 'cyber dating' handbook which all people should have."
BOCA RATON, FLA. (PRWEB) August 09, 2012
International selling author and relationship expert, Victoria Howard, has just released her fifth book, "Sex, Lies and Someone Else's Picture." Howard's book takes readers on an intimate journey behind the scenes of a billion dollar industry and reveals what most online dating sites refuse to reveal.
Howard interviewed dozens of men and women who shared their Internet dating experiences with her. She also shares her own stories, including the time she disguised herself as a man. The stories are funny, heartbreaking and heartwarming, but most importantly, the stories are true.
"The title says it all as the stories reveal," said Howard. "My dates were either searching for a sex object or they were secretly married. As one of my dates told me after being caught in a lie 'I'm not married, my wife is.'"
The stories in "Sex, Lies and Someone Else's Picture" reveal a popular theme in online dating: deception. The people in this book met sexual predators, liars, thieves and adulterers.
"The number one complaint from people was that they were not able to recognize their dates when meeting them," said Howard. "Some of these men and women were posting old photos or using photos that weren't even theirs."
"This is a MUST HAVE book for ANYONE who is about to join or is already a member of online dating," said Howard. "This is a 'cyber dating' handbook which all people should have."
"Sex, Lies and Someone Else's Picture" is available via Victoria Howard's website at http://relationshipguru.us, Amazon, Barnesandnoble.com and Amazon Kindle.
About Victoria Howard
Victoria is the author of five books including "Why Women Love Bad Boys," which was featured on "Fox & Friends," "Good Day Sacramento," and "Good Day L.A." After penning "Dear Victoria," a relationship column and hosting her own radio show, she became known as "The Relationship Guru" and "The Bad Boy Expert." Victoria is the founder of the nation's newest live dating game called "Kick 'Em To The Curb" which is the modern version of "The Dating Game." Follow Victoria on Twitter @HowardVicki, find her on Facebook and follow her blog for tips, inspirational quotes, and to ask your relationship questions.
###