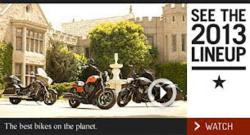 The new line is broken down into three categories, Victory Cruisers, Baggers, and Touring Models
Bel Air, MD (PRWEB) August 30, 2012
Pete's Cycle in Bel Air Maryland showcases the Vegas 8-Ball, one of Victory's most affordable bikes, has classic cruiser styling and generally sports a low seat height to go along with its blacked-out treatment. Victory's muscle bike, the Hammer 8-Ball, returns for 2013, its Freedom 106 draped in black. The Hammer 8-Ball gets its power cruiser chops from a stubby raised rear fender that shows off its meaty 250mm backside. The fender includes a removable passenger cowl in case you want to take a friend along for the ride. Victory's hot-selling High-Ball is back for another run, the cruiser sporting factory Apehanger handlebars, laced wheels, thick whitewalls and a bobbed front fender. And then there's the 2013 Victory Judge, With a thick chunk of Dunlop rubber on the front, a skinny 140mm backside, and drag bars.
The 2013 Victory Baggers line consists of the Cross Country in three different colors in addition to the anti-establishment, high-barred Hard-Ball. All Victory Baggers come with ABS and cruise control standard. The Cross Country and Hard-Ball sport two-piece cast aluminum frames and solid-mounted engines that serve as a stressed member of the frame. Big, plush seats, floorboards, and healthy-sized saddlebags with a claimed 21 gallons of storage provide long-range potential. The Antifreeze Green version of the 2013 Cross Country has extra chrome trim and a custom-style paint job with black flames. The Solid Black version gets tubular instead of forged highway bars while the Sunset Red version has blacked-out trim, including black tubular highway bars and drivetrain cases. The Hard-Ball has a factory Apehangers, Suede Black paint from fender to fender, and 18-inch black laced wheels.
Victory's Cross Country does double time as a touring model as well, the 2013 Cross Country Tour seeing the addition of a topcase, a full passenger backrest with its own heating and audio controls, and a trick wind management system. The Cross Country Tour also has 41 gallons of storage, the most space you'll find on a factory bike according to Victory. The 2013 version is offered in Solid Black, Boardwalk Blue and Bronze Mist. The 2013 Victory Vision is the company's fully dressed luxury touring model. A tall, electronically adjustable windscreen, heated grips, heated seats, and an audio system all aim to give the rider a pleasurable riding experience. The 2013 Victory Vision is available in three color schemes, including Solid Black, two-tone Gold Mist Metallic/Bronze Mist, and Sunset Red and Black with black carbon graphics.
You can order your 2013 Victory Motorcycle from: Pete's Cycle in BelAir.OR Call us at 410-879-3586 or visit us on the web at http://www.petescycle.com or join us on Facebook